Like clockwork each year, as soon as the flowers start to emerge and birds start singing their dawn chorus, Victoria, BC springs to life for another eventful season. Whether you are looking to frolic through rainbow-hued blooms, stroll along the tranquil Inner Harbour or want a fun-filled family spring break, Victoria makes for a quick, easy and affordable getaway to reconnect with family and friends. Kick off your springtime travel planning with our picks for 75 things to do in Victoria, BC this spring!
1. The Butchart Gardens
Celebrate the glory of all things green (and red, yellow, purple and pink) in the 55-acre grounds of The Butchart Gardens. Stunning any time of year, The Gardens are an absolute must in the spring. Feast your eyes on an explosion of swoon-worthy blooms as tulips, magnolias and daffodils spring to life.
Kiddo bonus points for letting your small fry put their drawing and scavenger hunting skills to the test as they scamper down stone-lined pathways on a family discovery walk. Not only is it an entertaining and educational way to take in the grounds, but it will also allow you to experience a side of The Gardens you never knew existed.
2. Tea or Cocktails at the Empress
Treat yourself like royalty for the day with Tea at the Fairmont Empress. Sip on exquisite loose leaf tea from china literally fit for a king and queen (it was originally created for the royal visit of King George VI and Queen Elizabeth in 1939). Dine on a lineup of scrumptious goodies each more delicious than the last. If you want to make it special, order flutes of sparkling wine and toast to a day of fun and relaxation.
In addition or alternatively, you don't want to miss out on grabbing a drink at Q Bar, one of Canada's top-rated cocktail bars. Whether you order up one of the Empress Gin based signature cocktails or go big with the opulent Last Train to Paris, Q Bar also offers a delicious menu of dishes to satiate any hunger level. A must-stop on your visit to Victoria.
3. Fisherman's Wharf
Pop around the corner of Victoria's Inner Harbor to Fisherman's Wharf and admire the colorful houseboats as they creak and bob with the tide. Keep an eye out for friendly local harbor seals, feast on fish and chips from Barb's Place or give in to your sweet tooth with a scoop of gelato (or three!) from Jackson's Ice Cream, which reopens for the year starting in March.
4. Abkhazi Gardens
One of the best secret gardens in Victoria, bar none, there is no more romantic place to go for a stroll than the secluded Abkhazi Garden. The garden was created as a labor of love by Prince and Princess Abkhazi, who were separated in World War II, but were reunited and married after the war.
Wander through the one-acre grounds to check out colorful clusters of blooms hanging from 100-year-old rhododendrons and carpets of alpine flowers flowing around natural rocks.
5. Hatley Castle & Gardens
Looking like something straight out a fantasyland with its notched battlement, it's no surprise that the magnificent Hatley Castle is a popular filming location for movies such as X-Men and Deadpool.
Stop by to explore the rooms of this historical building and stay to soak in the cherry blossoms and flowers surrounding the enchanting Japanese gardens. (Inside tip: Visit in May to catch the garden's large fremontodendron, located near the Italian gardens, in full bloom and covered in gigantic yellow flowers.)
6. Afternoon Tea at The Butchart Gardens
Need to refuel after spending a day strolling among the gorgeous blossoms, buds and foliage scattered around The Butchart Gardens? Indulge in afternoon tea at The Butchart Gardens and imagine what it would have been like to be one of Jennie Butchart's personally-served guests. Nibble on goodies ranging from ginger scones to savory sandwiches and gaze out the window on what was Jennie's private garden.
7. Chinatown
As the oldest in Canada, Victoria's Chinatown has plenty to see. Explore the neighborhood by foot and discover a maze of secluded courtyards and back alleys, filled with everything from theaters to one-of-a-kind restaurants and a treasure trove of shops. Spring is a great time to cast your eyes skyward occasionally to catch sight of the cotton candy-like cherry blossoms lining the street.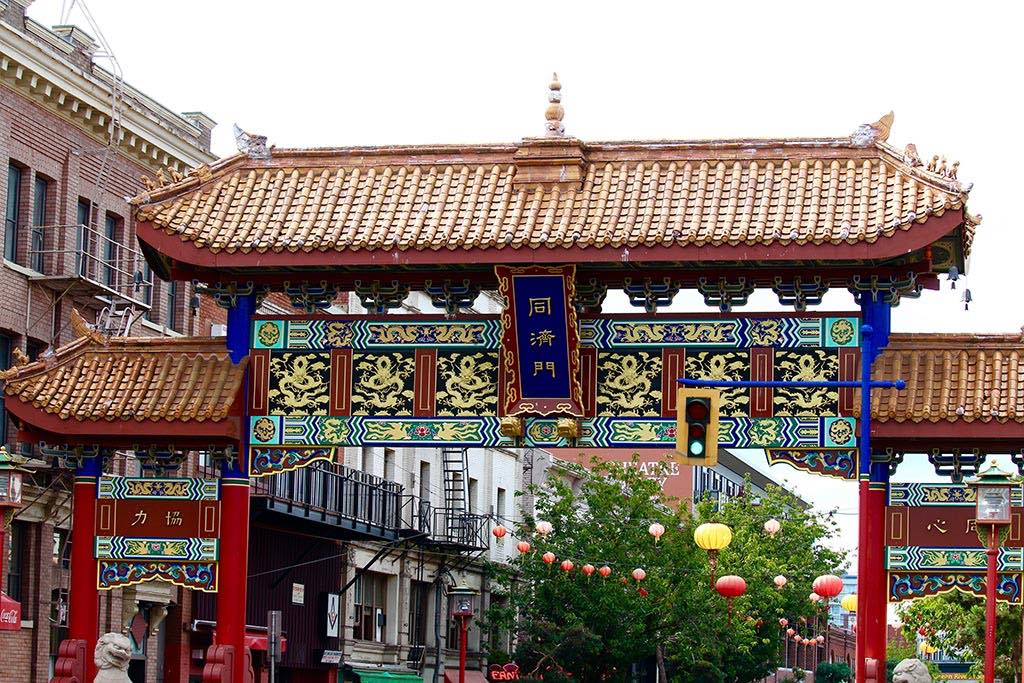 8. Beacon Hill Park & Children's Farm
An oasis in the middle of the city, Beacon Hill Park bursts into life each spring with a sea of purple crocuses and pale pink cherry blossoms.
Stroll through the lush grounds filled with free-roaming peacocks and a full-on petting zoo, which is home to bouncing sheep, llamas and other fluffy critters to pet. Time your visit to catch the "Running of the Goats," a furry stampede of baby goats that will have the kids squealing with excitement!
9. Victoria Butterfly Gardens
Tuck inside a tropical paradise at the Butterfly Gardens & Insectarium. Wander through the jungle-like grounds and marvel at exotic flowers, carnivorous plants, frogs, tortoises, flamingos, insects, large iguanas and, of course, thousands of colorful butterflies. If you have kiddos in tow, this might be the highlight of their entire trip! Be sure to check out this virtual tour of the Butterfly Gardens as well.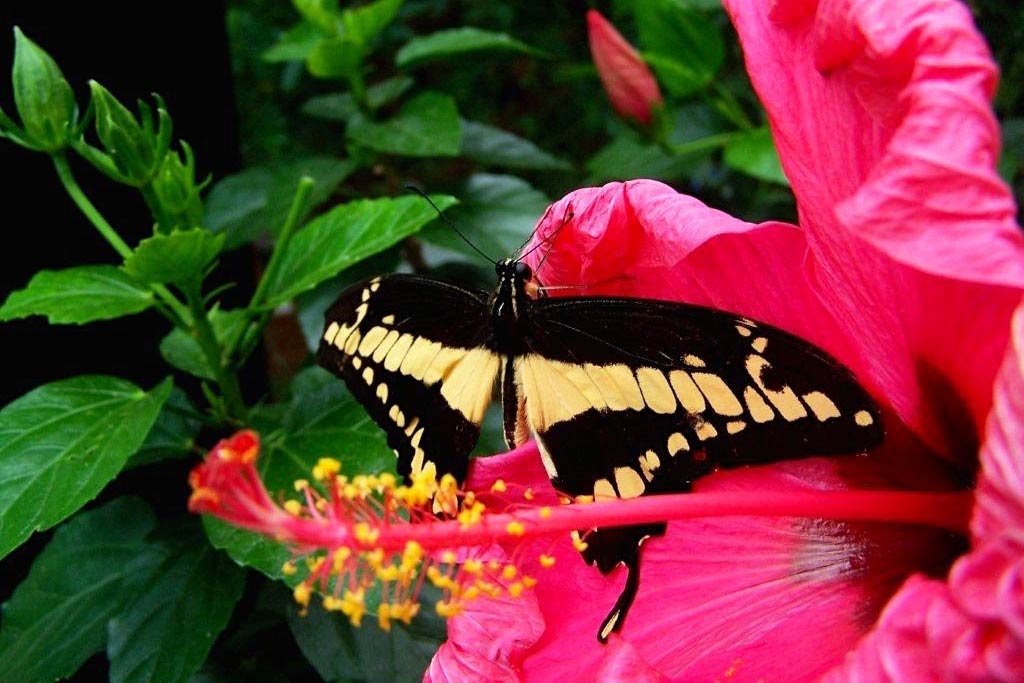 10. Royal BC Museum
Should the occasional spring shower come your way, duck inside the Royal British Columbia Museum to discover the region's history. Explore a variety of interactive exhibits that allow you to step back in time to experience the origins of BC's natural history.
11. Irish Times Pub
Celebrate the luck of the Irish with a frosty pint at the Irish Times Pub. Named one of the top Irish pubs outside of Ireland by the Irish Times newspaper, this is one of the best places in Victoria to tuck into for a Guinness and bratwurst. Slainte!
12. Shaw Center for the Salish Sea
A mere 30-minute drive outside of Victoria's downtown core will land you in the cozy seaside town of Sidney, where you'll find the Shaw Center for the Salish Sea.
Part aquarium, part cultural center, the Shaw Center houses 160 species of marine life, including a giant Pacific octopus, Pacific salmon, wolf eels, as well as unique, regional Coast Salish art. Be sure to stop by the touch pool, a favorite with little tykes, to allow them to get their hands on a number of ocean creatures.
13. Willows Beach
Kick back on a perfect swath of white sand on the stunning Willows Beach and soak in vistas of Chatham and Discovery Island. Take a dip in the shallow waters off the shore, which are perfect for small children and get quite warm in the summertime.
14. Galloping Goose Regional Trail
Itching for adventure? Explore Victoria from behind the handlebars of a trusty bicycle and pedal along the famously scenic 40-mile long Galloping Goose Trail.
Hop on the trail near downtown Victoria in Burnside, and follow it southwest across the picturesque Selkirk trestle. Or wind your way north through Saanich toward Sidney for farm and beachfront views.
15. Fernwood
Catch a cab out to the artsy neighborhood of Fernwood for a gold mine of unique shopping, plus dining and cultural experiences. Check out Luna Collective and Pigeonhole Home Store for a selection of handmade gifts or catch a show at the Belfry Theater. Cap off your tour of the charming community with excellent eats and sips at the Parsonage Café and Stage Wine bar.
16. Whale Watching
Embark on a whale of an adventure and hop on into a luxury, semi-covered catamaran (or a open Scarab-style speedboats, for the thrill-seekers!) on Eagle Wing's whale watching tour. Seize the chance to meet the region's showstoppers, Transient and Southern Resident orcas as well as minke and humpback whales out on the Salish Sea. The talented naturalists onboard will also give you valuable insights into these magnificent creatures!
17. Nourish Kitchen
A short two-minute walk from the FRS Clipper Terminal, Nourish is one of Victoria's hidden gems for healthy goodness, and one of our go-to spots for brunch or a quick pick-me-up upon arrival in the city.
Dig into the "Sleeping Beauty" oatmeal pancakes or the savory "Benny in the Moment" for a tasty twist on Victoria's favorite brunch item, eggs Benedict. (Inside tip: Don't skip the house-made Water Kefir, refreshing and packed with probiotics, it's our go-to drink of choice!)
18. Ritual Nordic Spa
These days we've all put a premium on re-emerging as our best, refreshed selves. Opened in 2022, Victoria's brand new Ritual Nordic Spa is just what's needed to get you centered, relaxed and back on track.
Drawing inspiration from the best sauna houses of Finland and Scandinavia, Ritual offers a friendly, informal atmosphere to enjoy a circuit of traditional-style cedar and basswood saunas, infared-heat saunas, a eucalyptus-infused steam room, a cold plunge pool, bucket showers, a salt lounge, massage treatments and outdoor relaxation patios. The spa also offers a mix of locally-sourced snacks and beverages.
19. Cowichan Wine Country
Spring break doesn't just have to be about fun for the kids, adults need a break too, right? Grab your girlfriends for a relaxing weekend spent sipping your way through Vancouver Island's burgeoning wine scene on a tour of Cowichan Wine Country.
More than your average wine tour, this trip also includes balsamic tasting like you've never experienced, as well as a farm-to-table lunch and cider tasting at the rustic Merridale Cidery.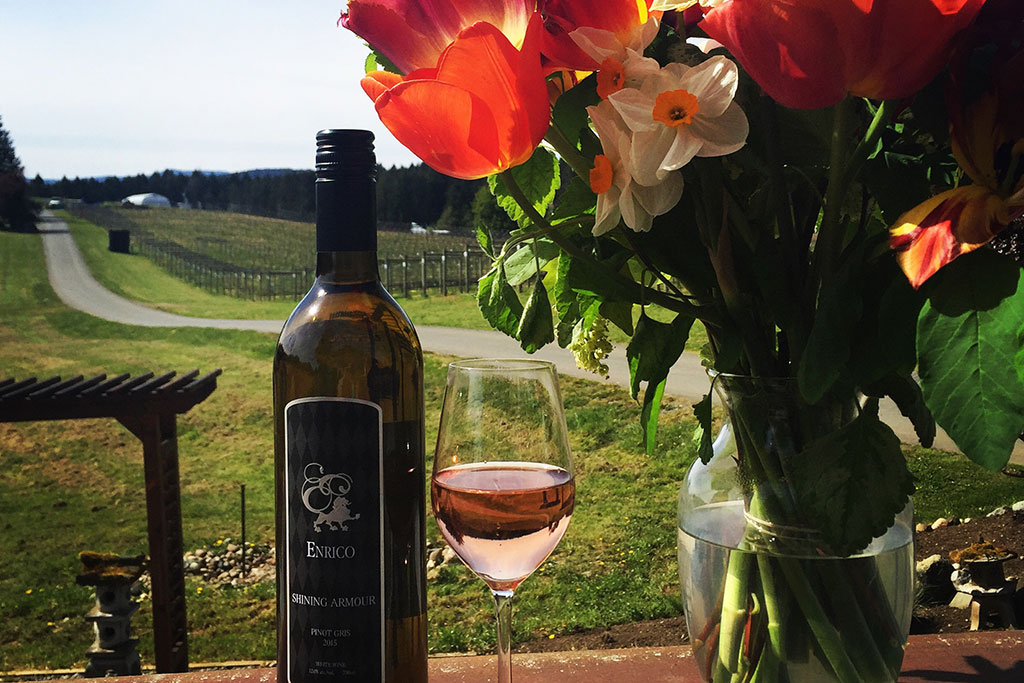 20. Zip Line Adventure
Soar high above the trees and valleys of Victoria's coastal temperate rainforest on an AdrenaLINE Zipline Adventure. Eight zip lines ranging from 150-1,000 feet long and up to 150 feet high are sure to provide an adrenaline rush. You'll also get a new perspective on Vancouver Island with a squirrel's-eye view of the forest canopy and surrounding mountains.
21. Government House and Garden
Green thumbs rejoice! With 11 unique gardens, terraces, an orchard and even a duck pond, the Government House grounds are an ideal locale to experience Victoria springing back to life with hundreds of blooms!
Wander beneath impressive nine-foot rhododendron trees covered in bright pink flowers or head to the Woodlands Viewpoint for an unobstructed view of the 8.5-acre lands.
22. Sea Cider
Walk into the airy Sea Cider Farm & Ciderhouse's scenic 10-acre property on the Saanich Peninsula to sip delicious adult, apple beverages. While you're at it, drink in views of apple blossoms and the breathtaking Haro Strait below.
23. Horticulture Centre of the Pacific
Named "Garden of the Year in North America" in March 2017 by the Canadian Garden Council, the Gardens at the Horticulture Centre of the Pacific (HCP) are truly a gardener's garden. Meander through the 9-acres of demonstration gardens to soak in the distinct beauty of each area, from vibrant blossoms to lusciously-scented herbs.
Swing by the Bonsai Garden to check out the more than 60 bonsai trees on display. It is the only outdoor Bonsai garden in Western Canada and an excellent place to spend a sunny afternoon.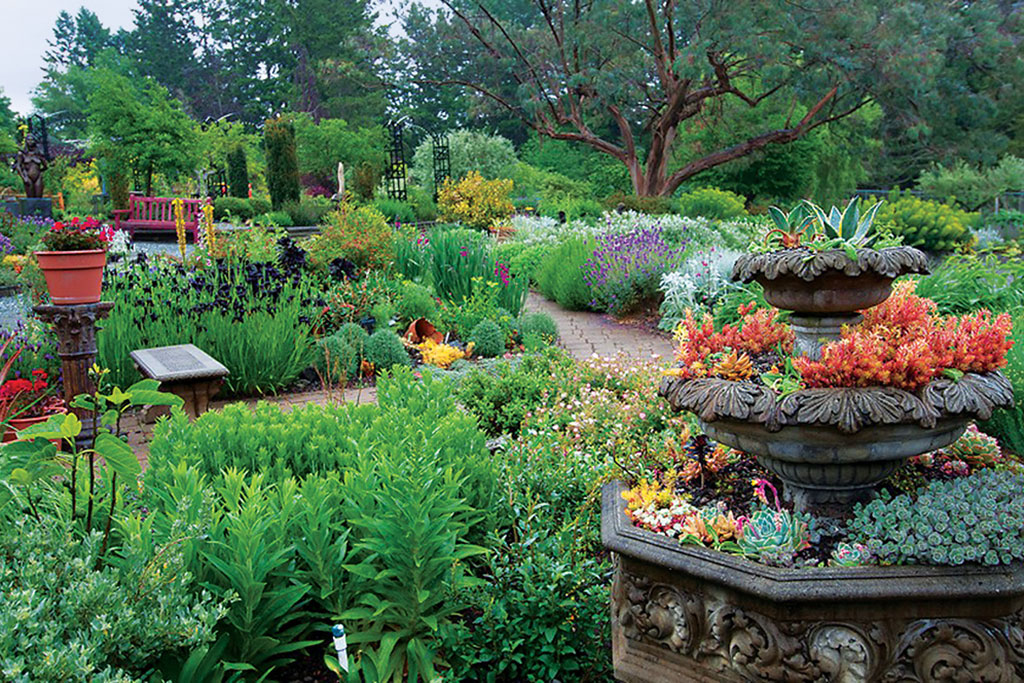 24. Oak Bay Avenue Shopping
Stroll up and down this quaint strip of real estate for a British-style shopping experience. Pop into some of the adorable and locally-owned boutiques and galleries for an array of splurge-worthy goods produced by independent artisans.
Work up an appetite? Stop by Octtavio Italian bakery and delicatessen, the British Penny Farthing Pub or Vis à Vis for country-style French fare. Or quench your thirst with a spot of tea at the popular White Heather Tea Room.
25. Fort Rodd Hill and the Fisgard Lighthouse
Perched on the edge of the Esquimalt Lagoon, the striking red and white Fisgard Lighthouse was the first on Canada's West Coast and offers the perfect backdrop for a selfie. (Inside tip: Scamper out to the red Adirondack chairs in front of the building to grab the perfect shot!) The view is absolutely breathtaking, on a clear day you can see all the way across the Strait of Juan de Fuca to Washington state!
26. Art Gallery of Greater Victoria
Explore a thoughtfully curated collection of nearly 20,000 objects d'art from all over the world, without having to book a trip aboard, at the intimate Art Gallery of Greater Victoria.
The space also features the best collection of works by the famous local artist, Emily Carr, who perfectly captured the region's landscape and First Nations peoples.
27. BC Parliament Buildings
If anything epitomizes Victoria, it's the Parliament Buildings. A stop at the iconic 19th century landmark allows you to take in a view of the grounds bursting with blooms, a perfect way to herald in the season. While you're there, join one of the free, guided Parliament Tours. The expert staff will fill you in on everything you want to know about this centuries-old building!
28. Gonzales Observatory
A scenic retreat in the heart of the city, the Gonzales Regional Hill Park offers unparalleled views of Victoria, Salish Sea, Strait of Juan de Fuca, Olympic Mountains, Sooke Hills and even the Victoria Clipper ferry as she cruises past. Stick around till sunset to watch as the sky transitions to pink and Victoria's downtown lights twinkle below.
29. Grab a Seat on a Patio
Springtime in Victoria promises two things: the city's vibrant plant life bursting back to life, and the excuse to spend as much time outside as possible soaking up the sun's rays. Melt away your winter blues and bask in some much-needed vitamin D at one of Victoria's array of patios. Kick back on the secret split-level courtyard at Il Covo and dine on authentic Italian cuisine in their garden surrounded by lush foliage. Or if you luck into a clear-sky day, hop on a Harbour Taxi over to Spinnakers Brewpub for a craft beer with a side of Olympic Mountain views on their lofty (and heated) outdoor space.
30. Pedaler Bicycle Tour
The most fun you'll have on two wheels! Cruise through the city on a two-hour guided excursion with The Pedaler Bike Tours, past iconic landmarks of Chinatown, Beacon Hill, Craigdarroch Castle and Cook Street Village. 
31. Clover Point
Jutting out from Dallas Road, the wind-swept Clover Point offers amazing 360-degree views of the region, including the Trail Islands and the Olympic Mountains in the distance. Keep an eye out daredevil hang gliders and windsurfers as you watch the waves crash along the seawall.
32. Eat Through Fort Street
Venture up Victoria's unofficial main street, Fort Street, for a progressive meal as you duck into some of the locals' favorite shops. A food lover's dream, this street serves up everything from fresh seafood at Fishhook, to innovative takes on Mexican fare at Tacofino, to tapas at Chorizo & Co., to amazing pastries at Crust Bakery.
The best part? The trek from Wharf Street to Joan Crescent clocks in at 2,000 steps (just over a mile), making it easy to justify eating your way up the street.
33. Tolmie Park
Known as "The Best Place to View the City," the summit of Mount Tolmie boasts excellent panoramas of greater Victoria as well as Mount Douglas, Race Rocks, San Juan Islands and Mount Baker as a reward for minimal physical effort. Don't forget to bring a blanket along for a picnic or quiet reflection.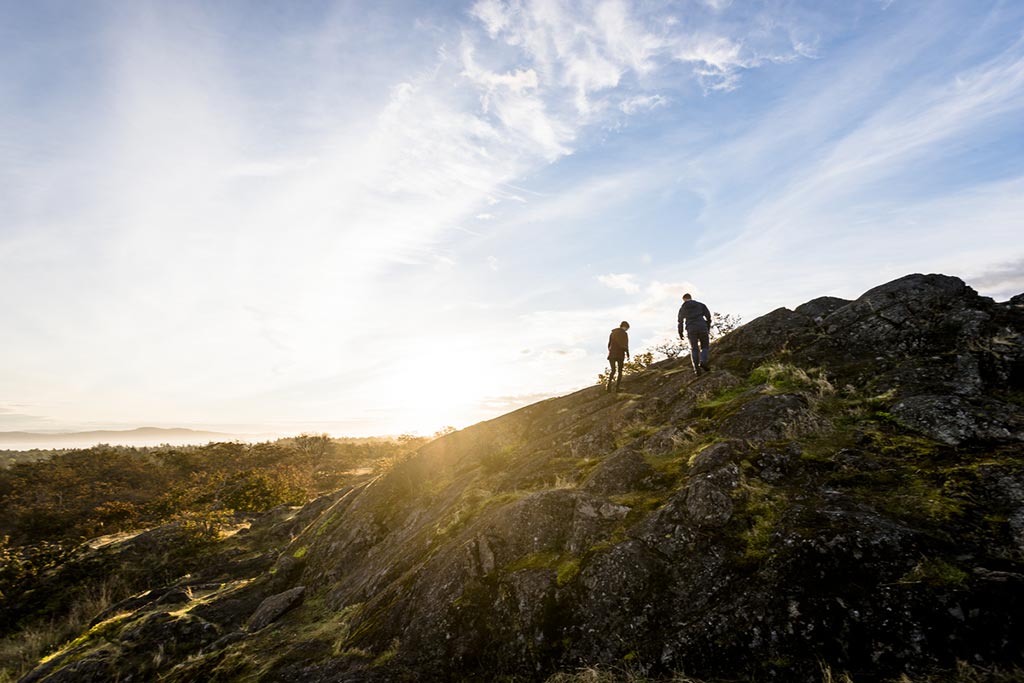 34. Pacific Northwest Raptor Center
Take a "hawk walk" or an "owl prowl" and experience the winged wildlife of the Pacific Northwest up close at the Pacific Northwest Raptor Center in Duncan. Staffed by knowledgeable biologists, you'll learn all about bird conservation and how humans and birds coexist on the island and across the Northwest.
35. BC Aviation Museum
One of the most popular family attractions in Sidney, the BC Aviation Museum has more than 20 unique aircraft on display! Be sure to stop by the "Early Bird" collection, which includes a full-sized replica of the DaVinci Ornithopter, a dragon-winged, human-powered flapping machine.
Visit the "Memorial Room" to find many artifacts from the wars in which Canadians fought as members of the Royal Flying Corps, Royal Air Force and Royal Canadian Air Force.
36. Smith's Pub & Argyle Attic
A snug pub with a great British vibe, Smith's Pub offers up an intimate spot to close out a day with an impressive lineup of fresh brews. Still thirsty? Head next door to Argyle Attic to pair outstanding whiskey with a mouth-watering collection of small plates.
37. Discovery Coffee
At once welcoming and accessible, "Disco" coffee, or Discovery Coffee for the uninitiated, can be found within walking distance of almost anywhere you find yourself in downtown Victoria. Kick start your day with one of their craft coffee brews that pair perfectly with the café's freshly-made doughnuts.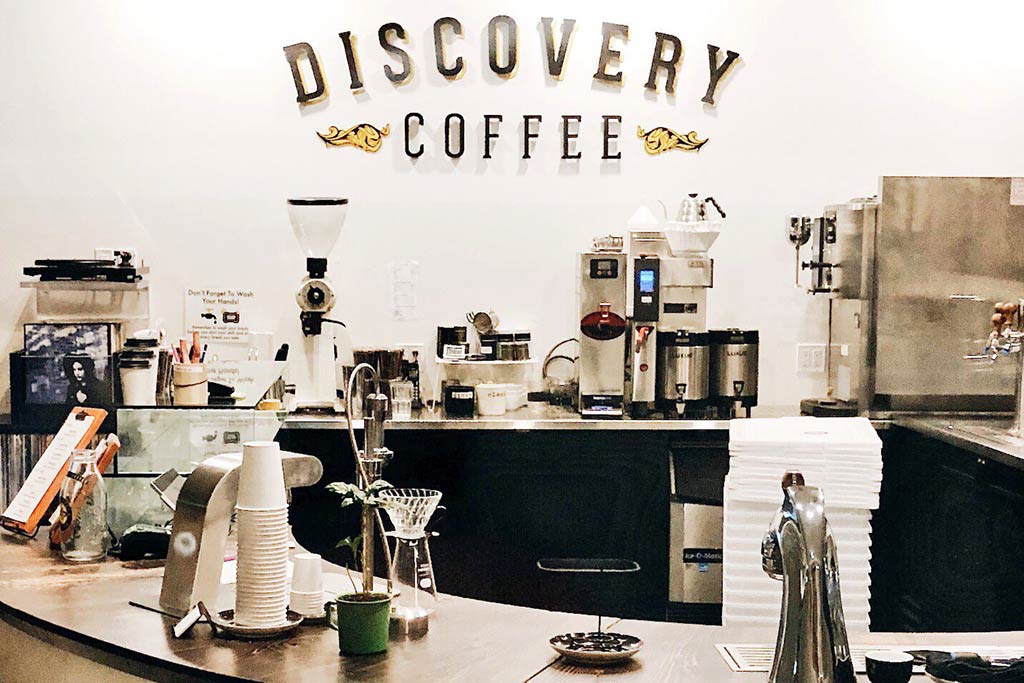 38. Tea at Pendray
A less than two-minute stroll up the street from FRS Clipper's Victoria terminal will land you at the Pendray Inn's stunning, 1890 heritage property (Inside tip: look up to catch sight of original frescos painted on the ceilings in of some of the rooms).
Indulge in the phenomenal afternoon tea to have your cake and eat it too with an overflowing lineup of locally-produced treats. With salmon pinwheels, cucumber sandwiches, mousse, cupcakes, chocolate dipped strawberries and more, you won't leave hungry.
39. Sooke Potholes
Deep, polished rock pools with crystal clear water make Sooke Potholes Provincial Park a wonderful spot for a picnic, a quiet stroll and maybe even a quick dip. Visit ahead of the busy summer season when locals flock to this area for a relaxing soak.
40. Jam Cafe
All-day breakfast is ALWAYS a good thing. The mix of rustic and vintage decor paired with south-inspired and home style recipes makes for a unique and eclectic menu that will exceed all expectations. Whether it's a custom benny dish or some full on fried chicken and waffles, you'll have plenty of reason to take a long stroll through Chinatown once you're done here.
41. Cowichan Bay
A small, seaside village, Cowichan Bay should be at the top of your list when journeying beyond Victoria on an Up Island road trip. Stop in at the Maritime Centre, admire the nearby boats and floating homes in the marina and then grab a bite at True Grain bakery.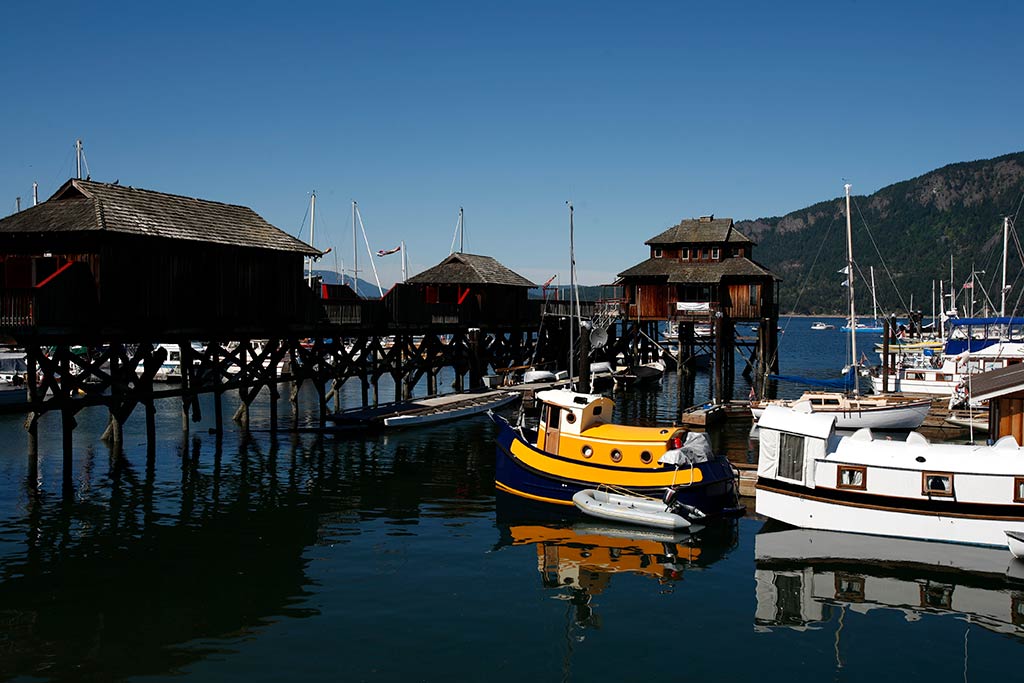 42. Malahat Skywalk 
Explore the west coast from a new perspective as you ascend a 10-story tower overlooking 360-degree views of islands, fjords, forests and mountains. With striking scenery of Mount Baker and the Salish peninsula, getting a bird's eye view of Vancouver Island is sure to land in your top 10 favorite memories. On your decent, take the traditional route as you stroll back down the ramp, or opt for a more adventurous option and test out the spiral slide.
43. Witty's Lagoon
Not far from Victoria, this oceanfront park features forest trails with stairs and benches along the way. A huge hit with the kids!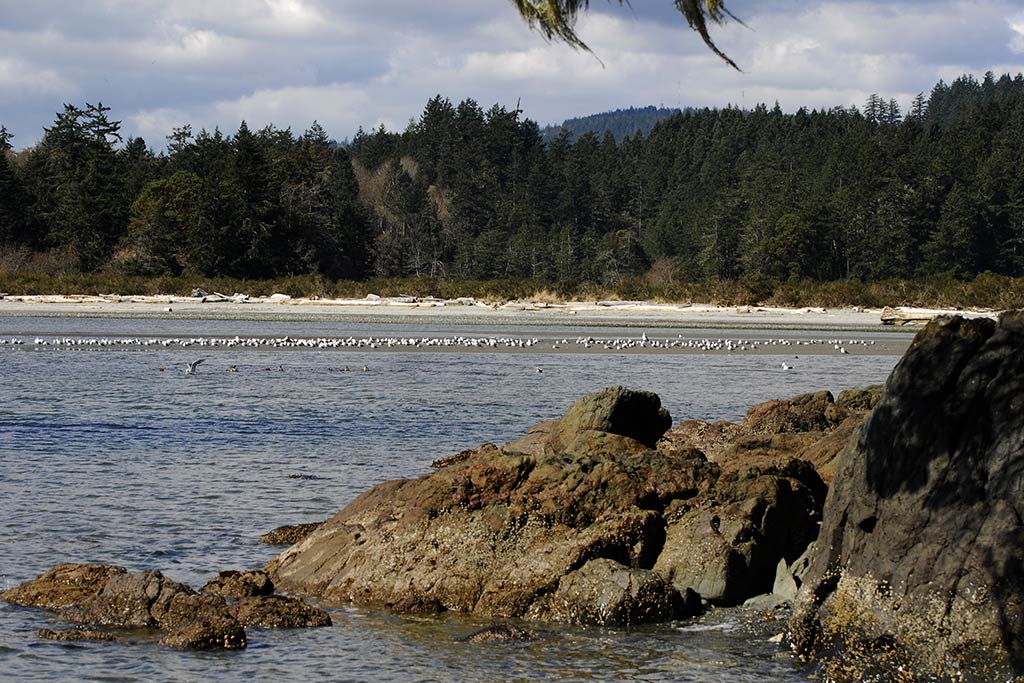 44. Horne Lake Caves
Explore Vancouver Island's impressive underground cave system as you crawl through the passageways of the Horne Lake Caves. Carved by Mother Nature into the mountains near Qualicum Beach, these caverns brim with glittering crystal formations and cascading underground waterfalls.
45. The Old Country Market
Located in the cozy Up Island town of Coombs, the Old Country Market is a must-visit for international foods, imported gifts and in-store baked goods. Keep your eye out for the four-legged critters overhead, the market is famous for its rooftop-dwelling goats!
46. Langford's City Centre Park
Come rain or shine, Langford's City Centre Park has something to keep the kiddos busy. It's packed with amusements like 18-hole mini golf, an outdoor water park and an indoor play-zone.
47. Cathedral Grove
Want to spend a few hours beneath a rare and endangered remnant of an ancient Douglas fir ecosystem? Head to Port Alberni's Cathedral Grove to see these massive trees, which tower an impressive 75 m (250 ft.) high and are about 800 years old.
48. Sidney Seaside Sculpture Walk
Beginning in Beacon Park and continuing along the waterfront toward the ferry terminal, this outdoor art gallery uses Mount Baker and the Salish Sea as its backdrop.
49. Mount Douglas
At 188 hectares, Mount Douglas Park contains the largest urban forest on the Saanich Peninsula. Discover forest wildlife on 21 kilometers of trails of varying difficulty. Enjoy a view of the water from the top, and watch for passing seals and orcas!
50. Chemainus
Located halfway between Duncan and Nanaimo, this small seaside town of about 3,000 people is best known for their 39 world-famous murals. The paintings display scenes and historical figures from the community's past, inspiring a deeper appreciation of the region's roots.
51. Hop on a Harbour Taxi
Climb aboard a cheerful yellow Water Taxi at one of the 14 seaside locations around Victoria for what's easily the most charming way to get to know the Inner Harbour. Hitch a ride over to Victoria West to grab lunch on the balcony at Spinnakers, embark on an expertly guided Gorge Tour, or grab some pals and pile in for their famed Pickle Pub Crawl!
52. Downtown Food & City Tour
Discover downtown Victoria on foot with a tour of popular Victoria spots, sampling some local flavors as you go! With a fun, knowledgeable guide, you'll get an insider's view of BC's capital city and a taste of the cuisine that fuels it. Enjoy dishes from Canada and beyond, expertly paired with some of the best beverages the city has to offer. By the end of the day, you may just feel like a Vic local!
53. Sunset at Ogden Point Breakwater
Take in a truly unbeatable sunset view at one of the city's man-made wonders, the Breakwater at Ogden Point. Situated off of scenic Dallas Road, the seawall juts half a mile into the sea, helping to keep the harbor's waters calm. Come sundown, the sun's rays provide a glimmering golden backdrop for the Salish Sea in front of you and the Olympic Mountains in the distance. If you make this journey on a particularly brisk spring evening, we recommend ducking into the cozy Breakwater Bistro for a bone-warming cocktail after the sun disappears.
54. Kayak Around the Inner Harbour
BC's capital is well-known for its stunning waterfront vistas, but did you know the best views of Victoria are those you get from atop the water? One of our favorite ways to achieve this vantage point is with a kayak tour around the city's central Inner Harbour. From this unique perspective, knowledgeable guides give the ins and outs of Victoria's historic waterways and take you along several stops at fascinating landmarks. And all the while, keep your eyes peeled for harbor seals, seaplanes and bald eagles. Never a dull moment with an oar in hand! 
55. Explore the Historic Homes of James Bay
Surrounded by water on three sides and boasting wide, inviting sidewalks, the charming residential community of James Bay is an easy pick for an afternoon stroll. Kingston and St. Lawrence Streets make for a good starting place, where more than a half dozen historic properties line each side of the road. Many of the beautifully-maintained homes feature architectural details fit for a storybook, such as turrets, double chimneys, wraparound porches, and spires. 
56. Finnerty Gardens
A secluded sanctuary on the edge of the University of Victoria campus, the Finnerty Gardens boast an extensive collection of magnificent foliage and flowers over its sprawling 6.5 acre grounds. Grab a free map and learn about the local flora as you stroll past more trees and shrubs than you can count (there are more than 4,000 in case you're wondering!), and 35 flowerbeds bursting with a vibrant display of perennials. Don't miss the garden's staggering assortment of 200 species of rhododendrons in a kaleidoscope of colors — one of the largest selections in the Pacific Northwest!
57. Red Fish Blue Fish
Seafood haven Red Fish Blue Fish reopens in their waterfront location for the year starting in March! Cruise over to their upcycled cargo container right along the Inner Harbour for fresh, sustainably-minded takes on fish 'n' chip shop classics. Dig into tempura-battered wild salmon, munch on some Caribbean jerk fish tacos, or indulge in a crispy west coast oyster sandwich. It's impossible to order wrong at this local fave!
58. Greater Victoria Performing Arts Festival
For six weeks each spring, greater Victoria shines a spotlight on more than 9,000 students of music, dance, and drama from across the region. Catch classical guitar, choral, dance, musical theater, speech, dramatic arts and more as the Greater Victoria Performing Arts Festival takes over the city for its 96th year. Showcasing the stylings of some of the city's youngest talent, it's the perfect opportunity to get inspired and applaud the future.
59. Ride in a Horse-Drawn Carriage
If there's one mode of transportation that drums up images of Victorian days past, it's a horse carriage ride around town. Trot along on a Tally-Ho Carriage tour and take in the city's 19th-century architecture and beautiful views at a slower pace. Spend an afternoon exploring the glistening waterfront of the Inner Harbour or the immaculately manicured gardens of the 155-acre Beacon Hill Park, set to the steady rhythm of horse hooves clicking underfoot. It's the perfect way to kick off a leisurely weekend of island living! 
60. Follow the Signs of Lekwungen
Want to learn more about the First Nations people who have resided in the greater Victoria area for hundreds of years? Follow the Signs of the Lekwungen, an interpretive walkway that wraps around the waterfront and its surrounding areas. Track down all seven of the bronze-cast site markers, based on carvings of spindle whorls (traditionally used by Coast Salish women to spin wool) by renowned Coast Salish artist Butch Dick. Each is placed in a culturally-significant spot, allowing you to discover more about the land, its original inhabitants and the spirit of its people.
61. Sample Some Suds 
Consider yourself a connoisseur of the PNW beer world? Well, we'd argue this title cannot be truly claimed until you've sipped your way across our neighboring city of Victoria. Generally considered the craft brew hub of Canada, BC's capital city packs a whole lot of brew IQ into a walkable stretch of its bustling downtown core. Head to the north end of the city for a visit to Phillips Brewing's sleek taproom — also the only spot in town where they malt their own barley in-house. Or if you're feeling peckish head to Swans for a full pub menu alongside their extensive tap list. 
62. Unearth Some Vintage Gems
While it's easy to get caught up browsing the gift shops near the Inner Harbour, there is a collection of well-stocked thrift shops and independent consignment stores a few blocks away begging to be discovered. Stop by Johnson Street's Flavour Upstairs where you can find an affordable selection of vintage and second-hand threads, shoes, and accessories. Next, make your way to Duchess and Duke on Government Street for on-point fashion picks. Wander down the street to Upcycle Clothing Collective, for a treasure trove of high-quality, curated attire. Whether you are looking for clothing, housewares, books, records or great art, you won't be disappointed.
63. Thunderbird Park
Wander among the vibrant, towering totem poles alongside an exceptional collection of First Nation monuments in Thunderbird Park. A hidden gem of a park, tucked into a quiet, tree-lined corner of town, the green space provides an excellent spot to relax and soak in some remarkable art and native history. Perhaps the most distinctive structure in the park is the colorful Wawadit'la. A long, low wooden building with a giant painted grin spanning its frontal wall, the building is also known as the Mungo Martin House, named after a famous local carver.
64. Saint Cecilia Coffee
If words like "single origin" and "pour-over" are what you look for on a coffee menu, we suggest you start your day at Saint Cecilia. On a brisk day, their steamy espresso drinks are sure to hit the spot. Or, if you luck into a warm spring morning, don't miss their effervescent espresso tonic. Whether you grab your drink to go and sip it along the nearby waterfront, or settle into a seat next to their floor-to-ceiling windows, there's no wrong way to enjoy your Saint Cecilia caffeine fix.
65. Take a Hike
With no shortage of dense old-growth forests and easily accessible paths, Victoria's scenic trails are awaiting outdoor exploration. If you're not quite looking to commit to a heart-pounding, day-long hike, the 2 km (just over a mile) trail to Mystic Beach is for you. Here, you'll encounter small stream crossings, a suspension bridge, and a descent down a felled and notched tree to the spectacular beach below. Want a hike closer to the city? Pay a visit to nearby Goldstream Provincial Park. Just a quick 25-minute drive outside of Victoria, Goldstream is home to waterfalls, towering evergreens, and dozens of bald eagles. It's Northwest at its most striking!

66. Heritage Homes Walking Tour 
The moment you cruise into BC's capital city, you can tell Victoria is a town with a strong historical presence. Everything from the dome-topped Parliament Buildings to the 110-year-old Fairmont Empress, will transport you to a bygone era. To get a feel for what life was like for Victoria's early settlers, set aside time to check out the city's historic homes. Wentworth Villa and Emily Carr's House are particularly magnificent in full spring bloom!
67. Sip, Soak & Steam at Oak Bay Beach Hotel
A historic structure with a rich oak interior, perched in a beautiful oceanside setting, the Oak Bay Beach Hotel's whole vibe screams re-lax-a-tion. Cozy up in the aptly named Snug Pub with a sparkling flute of Prosecco or a freshly poured pint gaze out over the Salish Sea before you. The hotel's newer dining option, Faro, also makes for a delicious lunchtime option. Then, head down to the toasty poolside steam room to unwind those tight muscles and inhale the invigorating scent of eucalyptus. Afterward, listen to the waves crash against the shore as you soak in one of three seaside mineral pools with unbeatable panoramic vistas of Mt. Baker.
68. Indulge Your Inner Chocoholic 
Whether you're on the hunt for a sweet souvenir or are just looking to treat yourself, you won't be disappointed by Victoria's selection of chocolatey confections. Established in 1885, it's safe to say Rogers' Chocolates knows their way around cocoa-y treats. If you're overwhelmed by the sheer array of options behind the glass, you can't go wrong with a classic Victoria Cream. Or head over to Government Street to spoil yourself at the lone western outpost of east coast fave Chocolats Favoris. Nothing complements a sunny spring day quite like a chocolate-dipped cone sprinkled with your favorite candy.
69. Picnic at Saxe Point in Esquimalt
Nothing screams "spring!" like spending a warm day camped on a patch of green lawn at Saxe Point in Esquimalt. Get a head start on your summer tan with a book in hand, or kick back, wiggle your toes in the grass and simply zen out. Pick up delicious, travel-ready sandwiches and snacks from Broughton Street Deli for a super easy DIY picnic.
70. Embark on a Photo Expedition
Sweeping seaside views to your left. Intricate, historic buildings straight ahead. Kaleidoscopic flowerbeds color your periphery. On a stroll around Victoria, you'd better have your camera battery fully charged – there are truly photo ops at every turn! Whether you're inspired by nature, astounding architecture, or that perfectly runny yolk atop your brunch spread, BC's capital city always finds a way to spark your creativity behind the lens. 
71. See the City Via Pedicab
Want to kick back and take in all the nooks and crannies of the city while someone else does all the work for you? Hail a human-powered pedicab (you can also book a guided tour) and let your knowledgeable local guide pedal you and a couple friends down secret alleys, secluded neighborhood streets, and hidden parks and gardens that larger vehicles can't access. Along the way, your friendly peddler will be happy to fill you in on the city's history and equip you with a slew of insider recommendations on the best brewpubs, eateries, and unique shops around town.
72. Self-Guided Walking Tour
Is there anything better than a leisurely walk on a sunshiny day? Get to know the compact downtown core of BC's capital city on foot with a self-guided walking tour. Whether you're looking to learn about Victoria's architecture, historic churches, or cultural sites, this free-to-download map app will help direct your exploration – or help you customize your own route around town.
73. Toast with a Craft Cocktail
Finish off the day with a nightcap at Clive's on the south end of downtown Victoria. Or if you find yourself by the water, Little Jumbo is a can't-miss for superb, hand-crafted cocktails. Over on Douglas St, centrally-located Citrus & Cane offers a seriously fashionable atmosphere and an impressive list of rare rums to try in their tropical concoctions – the perfect way to lean into the newly warming weather!
74. Catch a Show
When it comes to live entertainment, Victoria's got it in spades. Head to cozy, brick-lined haunt Hermann's Jazz Club for a jam-packed schedule of local talent. Or grab a pint at Irish Times and take in a show from bands representing everything from rock and acoustic to fiddle-plucking Irish tunes. And be sure to check the calendars for historic venues such as the Royal Theatre and the McPherson Playhouse, tickets to a show offer an excellent opportunity to peek inside some of Victoria's most opulent spaces!
75. Blue Fox Cafe
Victoria locals are serious about brunch. So as your first order of business when you arrive in town, why not live by the old adage and do as the Victorians do? Hip, with an upbeat vibe, the downtown brunch staple Blue Fox Cafe is a surefire option to kick off your day right. Once inside, don't be surprised if you enter into a staring contest with your menu as you decide among 12 different types of Bennies!
Tucked on an island bursting with blooming flowers, an endless number of outdoor activities and inspiring historical sites, Victoria is much more than the sum of its downtown core. Satisfy your inner adventurer with a well-deserved break to Victoria this spring!
Feature Photo: Scott Meis