After a loooonnng winter, our cherished PNW summer cannot come soon enough. And while Northwest natives have come to accept the fact that the sun doesn't truly show up until well into the season, it's those brilliant blue skies and peaks upon peaks filling the horizon that make it all worth the wait. To help you make the most of this amazing time of year, we've created a list of 50 epic Victoria summer activities to supercharge a season full of relaxation, exploration and new adventures.
Book Now: Seattle to Victoria Overnight Package
93 days. That's the duration of this summer and you better believe it's time to make every second count! Feeling a little pressure? Whether you have your eye on a quick weekend getaway or a weeklong escape, grab a friend and hop aboard the Victoria Clipper ferry for a scenic 2-hour and 45-minute ride to Victoria, BC and enjoy the season of sun!
In This Guide:
See the Sights: Quintessential Victoria
1. The Butchart Gardens
No matter the season, The Butchart Gardens are sure to put on a show. Insider tip, get your summer flower fix by enjoying a visit mid-week when the crowds are less!
2. Tea at the Empress
For more than 100 years, the Empress' elegant Lobby Lounge has been the place to visit for an authentic British tea and pastry experience. Choose from a selection of 21 of the finest loose leaf teas paired with mouth-watering treats, and check this Victoria must-do off your list.
3. Royal BC Museum
Discover authentic artifacts and specimens from distant times and places displayed in the Royal BC Museum's interactive exhibits. Slide back into the Ice Age or stand next to grizzlies in a massive forest in the Natural History Gallery. Got a knack for all things dinosaurs? Take a trip back in time as you learn about the prehistoric creatures that once called this land home!
4. BC Parliament Buildings
Overlooking Victoria's majestic Inner Harbour, the Parliament Buildings are a 19th-century icon. Spend some time exploring the nearly block-long expanse of the Parliament Buildings to uncover details in the intricate architecture that you would've missed from the street. (Have you spotted the ram fighting the buck?) One of the finest commemorations of Canada's independence, there is no more apt place to visit on Canada's birthday come July 1.
5. Johnson Street
Hit up Victoria's shopping mecca on LoJo (that's lower Johnson Street for the uninitiated) to indulge in some serious, guilt-free shopping at the array of great boutiques and pick up some new threads. Or stage a Wes Anderson-inspired shoot outside the candy-colored storefronts in this unique part of the city.
6. Abkhazi Gardens and Teahouse
Created in 1946 by Prince and Princess Abkhazi, the Abkhazi gardens are known for their majestic trees and dynamic, evolving plantings. Stay for lunch or afternoon tea in the original home, where you'll feel like a personal guest of the Abkhazis.
7. Pickle Boat "Ballet"
When the Victoria Harbour Ferries were originally brought to Victoria in 1990, the skippers were amazed at their maneuverability. Every Sunday from May to September and all weekend in July and August, these cheerful little boats put on a fascinating display of beautifully choreographed sequences.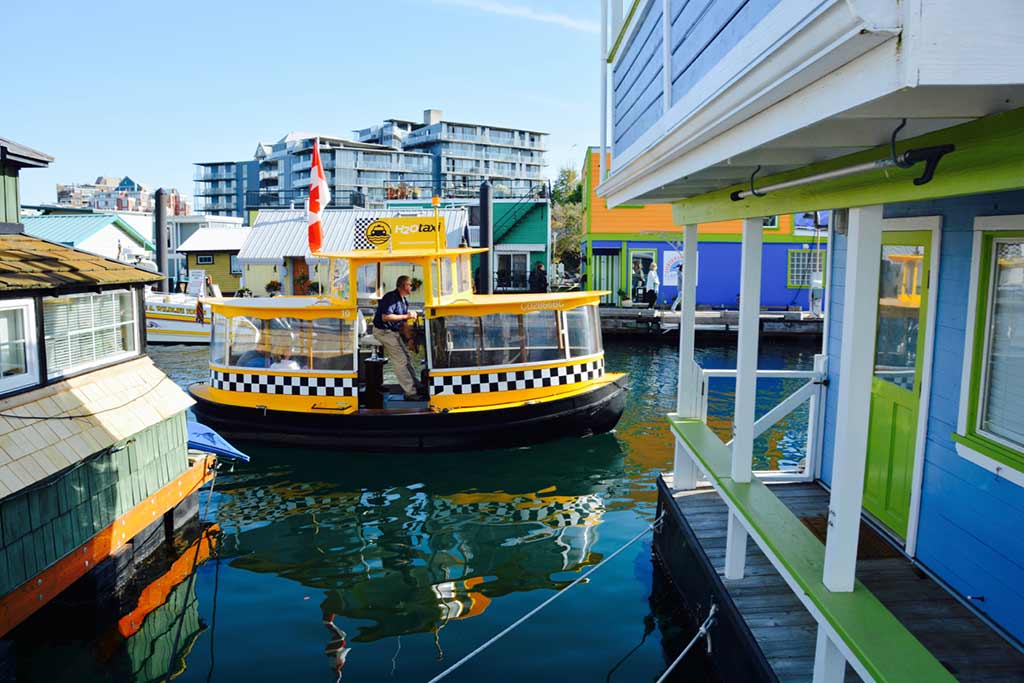 8. Miniature World
Often called "The greatest little show on earth," Miniature World is a one-of-a-kind Victorian experience. The perfect activity for the young and young at heart, this quaint and quirky museum brings everything from historical battles to childhood fantasy lands come to life in miniature.
9. Still Life
Arguably one of Victoria's foremost fashion retailers, Still Life has both "for him" and "for her" boutiques on Johnson Street. Something of a local gem, the shop has been the city's source for emerging style for more than three decades, and features clothes curated from forward-thinking brands such as Montreal's Ursa Minor or Denmark's Minimum.
Discover the Past at Victoria's Numerous Historical Sites
10. Historic Chinatown
Canada's oldest Chinatown district has plenty to see, we suggest exploring this colorful neighborhood by foot on a historical walking tour. Duck under the immense Gate of Harmonious Interest, stroll down Fan Tan Alley, and discover a maze of courtyards and pathways. It's easy to fill an entire summertime afternoon here exploring everything from theaters to shops to one-of-a-kind restaurants.
11. Craigdarroch Castle
Take a tour of this ornate Victorian castle, built by the coal baron Robert Dunsmuir between 1887 and 1890, and immediately feel transported to a bygone area. Meander through the 39 rooms chock-full of rich, Victorian-era furnishings, vintage photographs, and some of the most beautiful stained glass in North America.
12. Hatley Castle
Initially serving as a dormitory for cadets at Royal Roads Military College, the stunning Hatley Castle is now a popular filming location for movies such as X-Men and Deadpool. Want a peek inside yourself? You're in luck! The castle is also the administrative center of Royal Roads University and offers daily tours to explore the lavish interior and notched battlements.
13. Government House
Built in 1860, the Government House is the official residence of the Lieutenant Governor of British Columbia. Love gardening? Wander through the grounds' 36 acres, which are divided into numerous zones according to plant life and garden style. If you need to give your feet a rest, swing by the seasonal tea house for a steaming cup of herbal tea and pastries.
14. Fort Rodd Hill and the Fisgard Lighthouse
Found at the edge of the Esquimalt Lagoon, this lighthouse was the first on Canada's West Coast! Climb to the top floor of the building to soak in breathtaking views (on a clear day you can see all the way across the Strait of Juan de Fuca) or scamper out to the red Adirondack chairs to snap a coastal selfie.
15. Royal Theatre
An opera house and concert hall designed in 1912, the theater retains its original Rococo/Renaissance Revival style décor. Browse the iconic venue's calendar to check their array of live performances, an excellent opportunity to peek inside one of Victoria's most opulent spaces. Just be sure to arrive a little extra early to take a stroll around the ornate, historic theater and grab a drink along the dark wood bar in the lobby!
16. Ann's Academy
An icon from the mid-1800s, St. Ann's is a historic treasure older than both The Empress Hotel and the Parliament Buildings. Take time to explore the cathedral, which boasts ornate gold-leaf detailing, original oil paintings, and other relics of the past. You may even stumble across a resident ghost or two!
17. Emily Carr House
Discover the birthplace of Emily Carr and learn more about the painter and writer who was heavily inspired by the Indigenous peoples of the Pacific Northwest Coast. The childhood home of Victoria's celebrated artist, the sunny yellow home boasts enormous arched front windows and pillars framing the front door. Be sure to save time on your visit to explore the home's vibrant front yard. Packed with foliage and flora, the garden's hues echo the vivid color palettes of the artist herself.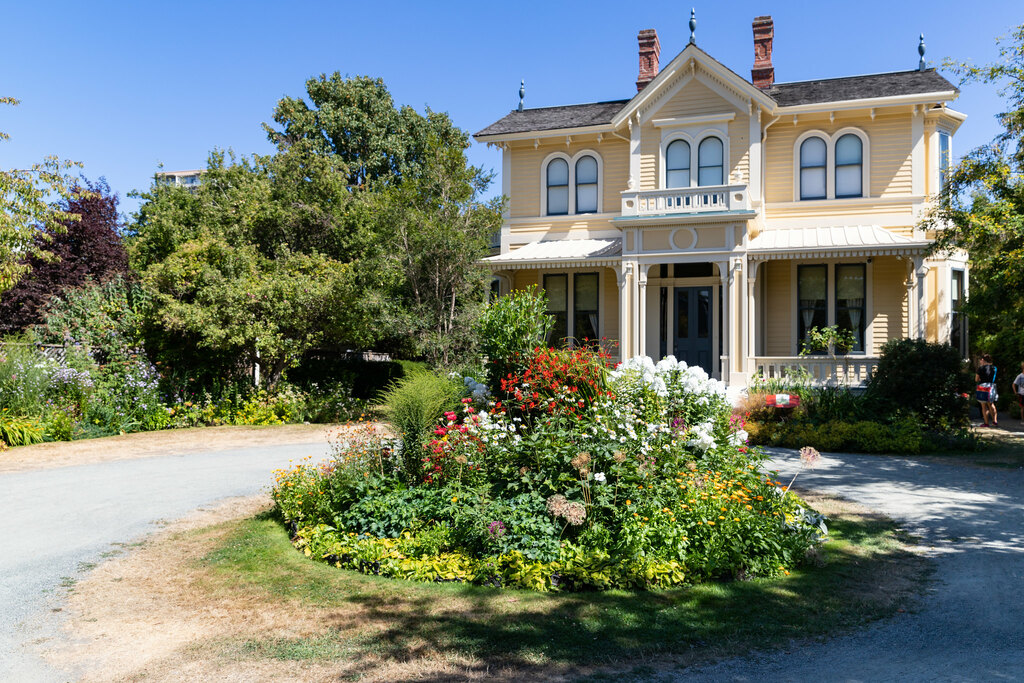 18. Christ Church Cathedral
Looking like the work of a 14th-century Parisian architect, the Christ Church Cathedral was built in 1929. Open daily for tours, the building's stone foundation is impressive both inside and out. (Inside tip: Walk the church's unique, seven-circuit labyrinth on their south lawn, which is said to help spark creativity, focus the mind and leave you feeling centered.)
19. Gonzales Observatory
After originally serving as a weather station for 75 years, the observatory now stands as a scenic heritage building in the Gonzales Hill Regional Park. Around sunset, make the quick walk up to the top for incredible views of Victoria, the Strait of Juan de Fuca, Olympic Mountains, Sooke Hills, the Salish Sea and even the Victoria Clipper as she cruises past!
20. Mile "0"
Located next to Beacon Hill Park, Mile "0" of the Trans-Canada Highway marks the start of the 8,000 km (or 4,860 miles) road spanning the breadth of Canada. The fourth longest highway in the world, it is the Canadian equivalent to America's Route 66 with many quirky roadside attractions along its sides.
21. Trial Islands Lighthouse
If you have a good eye, you might spot the iconic Trial Islands Lighthouse off to the right as you cruise into the Inner Harbour aboard the Clipper. Once on land, the lighthouse is easily visible from Clover Point or Beacon Hill Park's waterfront. And in 2015, thanks to the work of the Oak Bay Heritage Foundation and vocal support from the public, the lighthouse was granted heritage status.
22. James Bay Neighborhood

Exploring Victoria's downtown core is a must-do for first-time visitors. However, sometimes it's good to push beyond your familiar boundaries and discover a new location! Surrounded by water on three sides and with walkable pathways, the charming bedroom community of James Bay is an easy pick. Meander down Kingston and St. Lawrence Street, where more than a half dozen historic properties line the road. All of the homes boast storybook-like details, such as turrets, double chimneys, wraparound porches and spires.
Soak in the Sights with Victoria's Popular Tours & Attractions
23. Victoria Butterfly Gardens
About 30 minutes north of Victoria, the tropical jungle that is the Victoria Butterfly Gardens & Insectarium is home to thousands of butterflies – some 70 species! Inside you'll also find lush gardens chock-full of carnivorous plants, frogs, koi fish, tortoises, large iguanas and free-flying birds. Pop into the insectarium and check out the social behavior of a leaf cutter ant colony as they maintain their habitat.
24. Indulge in a Perfect Libation
If you have something to celebrate, or just want to treat yourself to something decadent, settle into a sumptuous booth at the Q at the Fairmont and order up the gilded display known as the Last Train to Paris. Accompanied by gold-dusted macarons and fresh strawberries, this Vevue Clicquot and Hennessy Paradis cocktail is presented with a a full tray of custom gold plated cocktail equipment. (Inside tip: Visit Friday through Sunday from 6:00-10:00 to catch some live music while you sip!)
25. Cowichan Valley Wine Country Tour
Unwind up island in the lush Cowichan Valley. Whether it's a romantic date escape or a girls' weekend getaway, a visit to the valley's world-renowned vineyards — paired with stops at awe-inspiring viewpoints along the way — is sure to leave you feeling refreshed.
26. Victoria Bug Zoo
Experience a microcosm of wonder at Victoria's Bug Zoo, which is home to about 50 fascinating insects, arachnids and millipedes, including Canada's largest ant colony. Shatter your phobias and get hands-on with live walking sticks, praying mantis and glow-in-the-dark scorpions at this must-see miniature zoo.
27. Victoria Public Market at the Hudson
Constructed in 1912, the Market now features soaring concrete ceilings and is home to a coffee shop, hot yoga studio and, of course, local artisan tables and an acclaimed farmers market. Grab a hearty sandwich from Roast, a sweet treat from The Chocolate Project, or a caffeinated pick-me-up from Shatterbox Coffee Co. and head over to Beacon Hill Park to enjoy a picnic lunch overlooking the ocean.
28. Victoria Food Trucks
If you need a quick snack break while exploring downtown Victoria, look no further than the city's army of delicious food trucks. From sweet and savory waffles at the Wannawafel Cart to a truly stellar array of tacos from Taco Justice, we have a feeling you'll be tempted to try them all while you're in town!
29. Ghost Tour
Known as the most haunted city in BC, Victoria offers no shortage of spooky places to visit. Bastion Square, formerly a courthouse ruled by "the hanging judge," Sir Matthew Baillie Begbie, is one of Victoria's most haunted spots.
Grab a Kayak, Golf Club or Bike and Get Active!
30. Kayak the Inner Harbour
Experience the beauty of Victoria's picturesque harbour with an intimate and unique kayaking tour. Spend a relaxing day on the water as you paddle past ocean vistas, iconic landmarks, seaplanes, and spectacular sea life! During the tour, soak up the sun and learn about the historic waterfront from experienced guides all while enjoying the best view in the city.
31. Golfing
Spend a gorgeous summer day putting your swing to the test on some of the island's finest links! Jutting rocks, roaring rivers, plus panoramic mountain and ocean views provide a jaw-dropping backdrop for the rustic Bear Mountain Golf Club & Academy, located just outside of Victoria.
32. Zip Line Adventure
Get your heart pumping as you whisk above the Sooke rainforest on an AdrenaLINE Zipline Adventure Tour. Eight ziplines ranging from 150 to 1,000 feet long and up to 150 feet high will give you an adrenaline rush and offer a bird's-eye view of Vancouver Island's stunning mountain and ocean vistas.
33. Paddle Boarding
See the city from the sea! Learn the basics of stand up paddle boarding in Victoria's Inner Harbour with a three-hour introductory course. Not only will you get a chance to strengthen your bond with your travel companions, but you'll also get a chance to soak in the natural beauty of British Columbia from its surrounding waters. 
34. Bicycle Tour of Castles, Hoods & Legends
Craving a little fresh air, fun and exercise? Get a look at Victoria's iconic landmarks from behind the handlebars of a trusty bicycle on a two-hour guided tour through Chinatown, Beacon Hill and Cook Street Village. 
35. Beacon Hill Wind & Kite Surfing
Birds aren't the only thing in the air on a sunny Victoria day! Head to Beacon Hill's waterfront and watch as adrenaline junkies take to the skies. Or venture down the road to blustery Clover Point, where unparalleled views of the Olympic Mountains and Strait of Juan de Fuca make for one heck of a kiteboarding spot.
36. Mount Washington
Located three hours up island, Mount Washington is home to a beautiful mountaintop ski resort. After a day of hiking, head to the water for a seaside bike ride or scuba diving in Vancouver Island's famously crystal-clear waters.
37. Dallas Road
Take an opportunity to be one with nature and experience the scenic Dallas Road on two wheels! Pedal along the southern end of Victoria and the Strait of Juan de Fuca to soak in wraparound waterfront views. (Inside tip: Ride all the way to Clover Point to catch sight of massive waves crashing against the shore.)
Hikes, Views and Photo-Ops: Explore the Island's Outdoor Offerings
38. Whale Watching
Depart directly out of downtown Victoria on an exciting Eagle Wing Whale Watching tour. Glide through the waters of the Salish Sea on a luxury, semi-covered, catamaran or a zippy open speed boat while the knowledgeable naturalists onboard search for wildlife and give you valuable insights into these magnificent creatures. Cruise through the waters of the Gulf Islands and the Strait of Juan de Fuca and soak in phenomenal views as you watch orcas, humpbacks, sea lions and bald eagles splash and play in their natural habitat. 
39. Thetis Lake and Matheson Lake
On a warm summer day, there's nothing better than a refreshing dip in one of the region's many lakes. Use Victoria as a home base and bike or bus your way to local favorites such as Thetis Lake and Matheson Lake and while away the day swimming in their cool blue waters.
40. Kinsol Trestle
Also known as the Koksilah River Trestle, the Kinsol Trestle is a massive wooden railway trestle that spans the salmon-bearing Koksilah River north of Shawnigan Lake. One of the tallest free-standing rail trestles in the world, the 144-foot high structure serves up views of the region you have likely never seen before.
41. Mount Finlayson
Enjoy the gorgeous ocean view atop the 4 km round-trip trail to the top of Mount Finlayson. Be sure to bring plenty of water, wear appropriate footwear, and use caution – this trail can get very steep!
42. Breakwater at Ogden Point
A spectacular walkway jutting out about 800 meters from the shore, the colorful breakwater is our go-to spot for catching the perfect Victorian sunrise. Snap a seaside selfie at the end, and induce major FOMO (fear-of-missing-out) from all your friends.
43. Mill Hill Regional Park
One of Victoria's hidden gems, and located not too far outside of town, there is no better spot for a day hike than Mill Hill Regional Park. Make the easy 200-meter climb to catch sight of meadows full of beautiful wildflowers as well as views of Esquimalt Harbour, downtown Victoria and the surrounding hill and mountains.
44. Beacon Hill Children's Farm
A farm in the middle of the city awaits within beautiful Beacon Hill Park. Let the kiddos get up close and personal with pigs, donkeys, chickens and peacocks. Catch the "Running of the Goats" at 10:10 a.m. and 5:10 p.m. daily and witness a furry, bleating stampede underfoot!
45. Elk & Beaver Lake Regional Park
In the summertime, the Saanich Peninsula is hard to beat. Just North of Victoria, Elk and Beaver Lake Regional Park is a local favorite, where swimming, canoeing, kayaking and water skiing are all popular ways to cool off. Both spots have sandy beaches, perfect for relaxing in the shade or tanning in the island sun.
46. Malahat Skywalk Tour
Boasting incredible 360-degree views of islands, fjords, forests and mountains, ascend the 10-story spiral tower of Malahat Skywalk. Just over 800 feet above sea level, discover the beauty of B.C. from new heights on a one-of-a-kind tour.
47. Lone Tree Hill
Boasting one of the best viewpoints on the island, Lone Tree Hill offers spectacular vistas of the Malahat, the Highlands, downtown Victoria and the distant Olympic Mountains. As an added bonus, the hilltop is an excellent spot for bird watching – keep an eye out for bald eagles, ravens and turkey vultures riding the winds!
48. Surfing Lessons
Tofino's reputation for great surfing is known across the island, and the town caters to surf beginners with a handful of fantastic surf schools. A drive along North Tofino's Campbell Street should turn up more than a few options for getting you out into the swell.
49. Westsong Walkway
Cross the Johnson Street Bridge and take the trail, just on the other side, to the beautiful Westsong Walkway to the West Bay Marina. Soak up the views from across the Inner Harbour, then take a Harbour Ferry back if you want to give your feet a break for your return trip.
50. Circle Tour
Want to explore beyond Victoria's downtown core? Pick up a set of wheels at Budget downtown and go for a scenic drive along Vancouver Island's ultra-scenic country roads. Travel up the Malahat Highway (Hwy 1) toward Mill Bay, taking time to soak in the views along the way. Grab lunch dockside at Bridgeman's Bistro before hopping on the Mill Bay Ferry across the Saanich Inlet.
Once you're on the Saanich Peninsula, take Highway 17A to the Butterfly Gardens at Keating Cross Road, and work your way back to Victoria, stopping by the farms on Oldfield Road.
Nestled on an island overflowing with outdoor activities, unique shops, award-winning gardens and impressive historical sites, Victoria is much more than the sum of its downtown core. Whether you are looking for fresh Northwest fare or a relaxing beachside stroll, there's truly an adventure for everyone in Victoria.
Do one, do them all…whatever the case may be, we always want to hear from you and see your photos, so be sure to share on Facebook, Twitter or Instagram using #ClipperVacations. Happy exploring!
Featured image: Destination Greater Victoria