It's official…fall has arrived! Whiffs of pumpkin spice greet the nose and piles of colorful leaves crunch underfoot. In the blink of an eye, our PNW summer has transitioned into a fall wonderland, with crisp, cool air that calls for cuddling up by a crackling fire. Luckily, Victoria is a city made for cozy.
BOOK NOW:  Fall Sale – Seattle to Victoria Overnight with 2-Nights or More
From countless cafes and brunch nooks to indoor markets and museums, the city of gardens transforms from green to yellow to fiery red surrounded by stately architecture. Discover a timeless beauty that calls on you to breathe, relax and decompress with these 50 things to do in Victoria this fall! Be sure to also check out this comprehensive Fall Guide to Victoria from Destination Greater Victoria!
1. The Butchart Gardens
No matter the season, The Butchart Gardens are sure to put on a show. In the fall, a stunning parade of red, russet and golden maples greet the eyes. Don't forget to stop by the Dining Room Restaurant for a perfectly steeped steaming cup of tea.
2. Royal BC Museum
Discover authentic artifacts and specimens from distant times and places displayed at the Royal BC Museum. Explore a variety of interactive exhibits that allow you to step back in time to experience the origins of BC's natural history. Once you've made it through all of the natural and cultural historical exhibits in the museum, soak up some sun and impressive views at the neighboring Thunderbird Park, brimming with soaring totem poles carved to emulate coastal Native American styles.
3. The Parliament Buildings
Nothing says Victoria quite like the iconic blue-green domed Parliament Buildings. Hop on one of the free, guided tours and the expert staff will fill you in on everything you want to know about this centuries-old building.
Time your visit to catch one of the debates from the Public Galleries when the Legislative Assembly is sitting. Or duck into The Parliamentary Dining Room for breakfast or lunch and enjoy a white cloth dining experience that will make you feel like a real parliamentarian!
4. Tugwell Creek Farm & Meadery
Get a proper introduction to Vancouver Island's bees with a visit to Tugwell Creek Farm and Meadery, the first in British Columbia. Dip into the farm's sweet, sweet honey and sample one of its delicious, liquid byproducts – their award-winning "bee-to-bottle" mead.
5. Tea at the Empress
Indulge in a selection of loose leaf teas fit for a queen paired with a slate of delicious, house-made eats with Tea at the Empress. A rite of passage in the Pacific Northwest, the elegant Lobby Lounge has been the place to visit for an authentic British tea and pastry experience for more than a century.
6. The Galloping Goose Trail
Hop on a bike and follow the famously scenic 40-mile long Galloping Goose Trail. The former rail line runs from the urban streets of Victoria to the rural countryside of Sooke, offering up amazing scenery and a complete picture of the region.
7. The Causeway
A bustling walkway circling the Inner Harbour, the Causeway is our go-to spot for people watching. Stroll around the waterfront or grab a drink at one of the nearby cafes and watch the sun set on the water – you can never go wrong grabbing a platter of oysters under a heated patio seat at Steamship Grill!
8. Victoria Harbour Ferry
Itching to get out on the water? Climb aboard a cheerful Harbour Ferry and tour Victoria's lively Inner Harbour by boat! See the comings and goings on the water, soak in vistas of the Parliament Buildings and Fairmont Empress, and pick up a few insider tips about the city from your knowledgeable captain!
9. Johnson Street
With more than a handful of unique boutiques within easy walking distance of each other, navigating Victoria's growing selection of independent stores requires little more than your own two feet. Hit up Lower Johnson, affectionately known as LoJo to locals, for everything from beautiful, minimalist clothing at Open House to floral finds at Rook & Rose. If you need to refuel after your retail therapy, swing by the street's Hey Happy Coffee for some of the best espresso drinks in town.
10. Fernwood Neighborhood
Catch a cab out to the artsy neighborhood of Fernwood to explore some of the area's hidden gems for vintage, homewares, or even metaphysical goods at shops like Luna Collective, Cream Life + Style, and 7 Rays. Cap off your day with some caffeination from Parsonage Café or libation at Stage Wine bar.
11. Abkhazi Gardens and Teahouse
In need of a tea fix? Duck inside the cozy tea house at Abkahazi Garden. One of Victoria's best-kept secrets, the spot serves up a selection of Silk Road's fine loose-leaf tea paired with an array of treats created with regional or Abkahazi grown produce. Gaze out on the one-acre gardens and fall in love with autumn colors filling the property.
12. Miniature World
Get a bite-sized glimpse of Victoria's past, present and future at Miniature World, one-of-a-kind Victorian experience. The perfect activity for the young and young at heart, this little museum brings everything from historical battles to childhood fantasy lands to life in miniature.
13. Cook Street Village
Tucked away in Victoria's Fairfield neighborhood, this eclectic corridor is home to several organic food markets and coffee houses. Explore by foot and you'll find antiques, reclaimed furniture workshops, and accessories stores as well.
14. Art Gallery of Greater Victoria
Pop into the intimate Art Gallery of Greater Victoria to discover nearly 20,000 objects d'art from all over the world. Check out the impressive collection of works by famous local artist Emily Carr as well as exquisite carvings in the Asian art gallery. On a budget? Stop by on the first Tuesday of every month for pay-what-you-can admission.
15. The Royal Theatre, McPherson Playhouse, The Belfry Theatre or Langham Court Theatre
Looking to catch some live entertainment? Duck inside one of these historic venues for a memorable performance, be it a symphony, dance or play. While you're there, take a moment to marvel at the ornate architectural details within!
16. Ghost Tour
Known as the most haunted city in BC, there are plenty of spots around Victoria to serve up a perfectly-timed scare. Under the expert guidance of Discover the Past walking tours, you'll pay a visit to one of Victoria's most haunted spots, Bastion Square – formerly a courthouse ruled by "the hanging judge" Sir Matthew Baillie Begbie – among other spooky locations.
17. Chinatown District
Filled with hidden courtyards and back alleys, Victoria's Chinatown offers plenty to see, including the towering Gate of Harmonious Interest. Modeled after the entrance gateway to the famous Dunhuang Caves in northwestern China, the gate reflects the need to strive for harmonious relations between all people. As you admire this ornate structure, be sure to pick up a guide to the area's historic landmarks and check out the Chinese Public School, Tam Kung Temple, McPherson Playhouse and more!
18. Russell Books
Duck into the popular Russell's Books, a bibliophile's paradise brimming with 18,000 square feet of new or used books. On the hunt for a unique title? There's a good chance you'll find it alongside an entire section devoted to rare and vintage books.
19. Hermann's Jazz Club
If a night on the town is what you're looking for, check out Hermann's Jazz Club, Victoria's oldest live jazz venue. Located between Blanshard Avenue and Douglas Street, this downtown gem is the go-to for island jazz cats looking to get down in some cozy digs.
20. Victoria Food Tour
Treat yourself to the best of Victoria's culinary scene on a trek around the city with A Taste of Victoria. Sample everything from sweet, spicy barbecue to delicate macarons at six local hot spots. The best part? You'll leave armed with insider recommendations for the rest of your day-long visit.
21. The Bay Centre
Spanning a full city block, The Bay Centre is downtown Victoria's premier shopping destination. Fill your bags with gifts and goods from more than 90 unique shops and boutiques.
22. Hatley Castle
Once the home of wealthy Dunsmuir family, the stunning Hatley Castle is now a popular filming location for movies such as X-Men and Deadpool.
23. Emily Carr House
Discover the birthplace of Emily Carr and learn more about one of Victoria's most celebrated artists. Situated outside Beacon Hill Park, the sunny yellow home features 19th-century architectural detailing and an eye-catching front yard packed with colorful flora.
24. Craigdarroch Castle
Perched on a high hill above Victoria, the massive stone Craigdarroch Castle boasts 39 rooms, more than four stories and is well worth the 30-minute walk from the Inner Harbor. Geek out over the castle's impeccable stained-glass windows and elegant Victorian-era furnishings before making your way up to the tower for spectacular views of downtown Victoria and the Olympic Mountains.
25. Tea at Pendray Inn
The quintessential Victoria tradition of afternoon tea and treats is just a quick two-minute stroll up the street from Clipper's Victoria terminal at the Pendray Inn's gorgeous and historic 1890 property. You'll enjoy an array of classic tea sandwiches, freshly baked scones, and delicious pastries alongside their signature gourmet tea.
26. Sea Cider
Nothing screams fall like a crisp pint of cider. Stop by Sea Cider's 10-acre property to sample the seasonal Witches Broom. Tart and brimming with spices, you will be hard-pressed to find a better beverage that better showcases the tastes of the season.
27. Three Hour Definitive Craft Brewery Tour
Want to pack in a lot of local flavor? Hop on brew bus for a three-stop tour of the region's unique brews. Get a peek behind the scenes, learn about some local brewery history as well as the art of craft beer from the best brewers in the business. One thing is for sure, you won't leave thirsty!
28. Spinnakers Gastro Brewpub
One of Victoria's original brewpubs, Spinnakers marries delicious handcrafted brews with a menu full of exceptional, locally-sourced treats. Sip on a crisp Blue Bridge Double Pale Ale or try out their single-varietal Braeburn Apple Cider for a true taste of fall.
29. Jam Café
A hip but homey little spot, Jam Café is one of the top spots in the city for an all-important weekend brunch. Though sometimes there is a bit of a line outside, the reward is well worth the wait. Did someone say pulled pork pancakes and Bailey's-infused French toast? Yum!
30. Bodega Restaurant
Meat. Cheese. Wine. Plus a smattering of tapas all tucked away in shimmering Trounce Alley, a sparkling bistro-light-laden alley screaming for that perfect fall night Insta capture.
31. Habit Coffee
Featuring beans roasted by Bows & Arrows Coffee in Victoria, Habit is one of our favorite spots for a delicious, life-giving brew. Sip the Nicolas & Maruja Clque Espresso from Bolivia if it's available! With notes of milk chocolate, rose, caramel and Frangelico, the beans make for a decadent cup.
32. Ross Bay Cemetery
Walk or bike down the scenic Dallas Road to the hauntingly beautiful Ross Bay Cemetery. Not only are the grounds the resting place for some of Victoria's most famous citizens, (Emily Carr! Judge Begbie!), but they are also home to brilliantly colored, 100-year-old trees. (Inside tip: Visit in the morning or early evening, as the autumn leaves and surrounding gravestones become 10 times more mysterious when paired with fog.)
33. Violette Boutique
Featuring handcrafted jewelry, handbags, carefully curated candles alongside thoughtful cards and ceramics, Violette Boutique is a must-stop on your shopping explorations.
34. Still Life
Victoria's source for offbeat and emerging style, Still Life needs no introduction. Pop into the popular boutique for modern, quality threads from international brands such as Montreal's Ursa Minor or Minimum all the way from Denmark.
35. Antique, Vintage, and Thrift Stores
When it comes to well-stocked thrift shops, Victoria has many gems for you to discover. Head down to Cook Street to browse antique home decor at Kay's Korner. Then make your way up toward Pandora Ave to flip through carefully-curated vintage duds at Vintage after Death, and pay a visit to LoJo's Flavour Upstairs where you can find all kinds of vintage treasures at great prices.
36. Citizen Clothing
For an unexpected twist on classic styles, look no further than Citizen on the bustling Johnson Street. Whether you're after seasonal handpicked clothing or craft scents and fragrances, the shop is a go-to for a man in need of some fresh threads.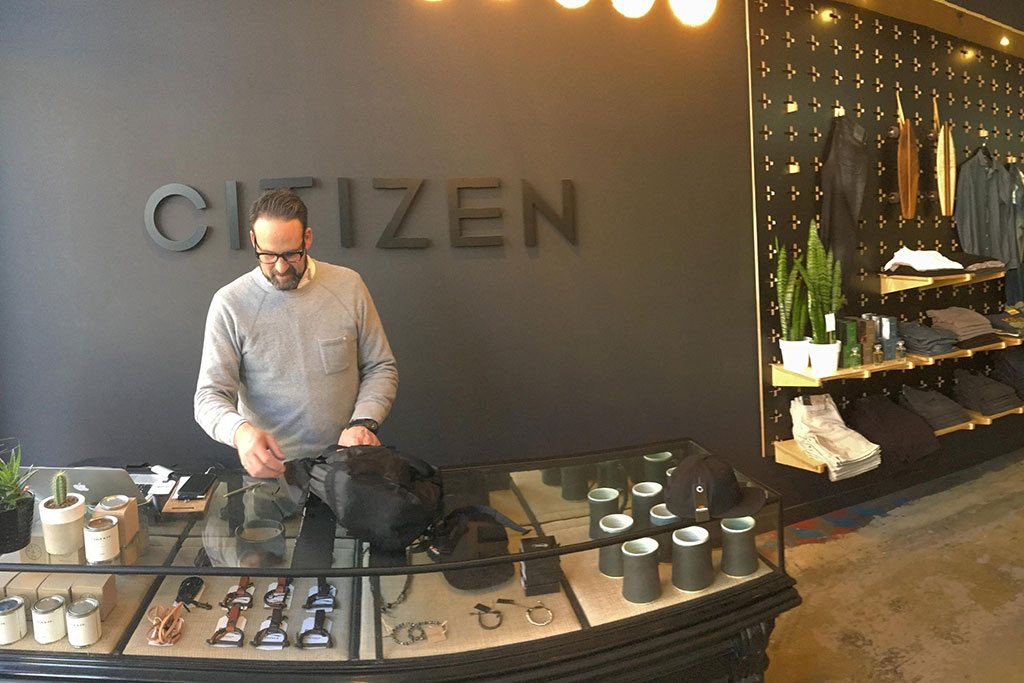 37. Oak Bay Village
A mere ten-minute drive east of Victoria, the small seaside town of Oak Bay offers a surprising variety of boutique shops, art galleries, coffee shops and restaurants, as well as miles of sandy coastline to stroll.
38. Victoria Public Market at the Hudson
The core of Victoria's downtown community, the Victoria Public Market at the Hudson puts fresh seafood, handmade pies, farm-fresh groceries and a bounty of other goodies at your fingertips. Pick up an array of eats at the market, then head over to Beacon Hill Park to enjoy a picnic lunch in the crisp autumn air.
39. Marine Circle Tour
To truly absorb Vancouver Island's lush landscapes and incredible wildlife, rent a car from Budget downtown and command your own journey from the road. Travel along Victoria's coastal highways for what may be the best waterfront views around. You'll also pass by Avatar Grove, which is home to a spectacular stand of old-growth giant red cedars.
40. Niagara Falls
Located in Goldstream Provincial Park, this massive waterfall is especially impressive in the fall. Time your visit right and watch the salmon run, likely followed by an eagle looking for a feast. This is the Northwest at its best!
41. Roost Farm Centre
Housed on 10 acres of farmland on the Saanich Peninsula, Roost Farm Centre brings fresh produce right to your plate. Everything from chicken and lamb to even the flour is grown right on the farm. After exploring the grounds, feast on delicious pizzas baked to perfection in their wood-fired oven. Still hungry? Share a decadent made-from-scratch carrot cake or Roost's signature Bumbleberry pie.
42. Breakwater at Ogden Point
Wander over to the city's man-made marvel, the Breakwater at Ogden Point. Stroll out to the end of the brightly-painted walkway jutting out about 800 meters from the shore and snap a shot of the sun's rays as they fill the horizon with rosy golden hues. There is no better spot for catching the perfect Victorian sunrise or sunset!
43. Galey Farms
Just north of Saanich, this family farm offers up all kinds of fun! Get lost roaming through the farm's six-acre corn maze, hop on a hayride to pick out the perfect pumpkin or stop by the farm market for fresh produce. Looking for a scare? Check out the farm's CarnEvil, which features two haunted houses bursting with monsters taken from your worst nightmares.
44. Goldstream Provincial Park
Venture over to Goldstream Provincial Park for an array of outdoor activities and breathtaking natural beauty. If you're looking to work up a sweat, a trek to the top of Mount Finlayson will do the trick (and treat you to a panoramic view at the summit!). Or if a leisurely stroll is more your speed, head to Upper Goldstream Falls for a less-than-two-mile loop to the eponymous waterfall.
45. Shaw Centre for the Salish Sea
Part aquarium, part cultural center, the Shaw Centre brims with 160 species of marine life alongside unique, regional Coast Salish art. Pay a visit to the touch pool, a favorite with little ones, to allow them to get their hands on a slew of ocean creatures.
46. "Booktown"
With at least six bookstores scattered within a four-block radius, there's no shortage of reading material for bookworms in Sidney, BC. A book lover's dream, each shop houses a unique collection of titles and is independently owned by experts in their fields.
47. Cowichan Valley Wine Country Tour
Unwind "up island" with a Cowichan Valley Wine Country Tour. Whether it's a romantic date escape or a girls' weekend getaway, a visit to the valley's world-renowned vineyards along roads with awe-inspiring viewpoints will leave you feeling refreshed.
48. Malahat Drive
Also known as "The Malahat," this 15-mile stretch of the Trans Canada Highway 1 is home to some downright breathtaking views. Stop at one of the pullouts along the route to soak in jaw-dropping vistas of the sparkling Saanich Inlet and lush Goldstream Park as you make your way up island.
49. Cowichan Bay
A small, seaside village, Cowichan Bay is the perfect pit stop on an up island getaway. Pop in the Maritime Centre, admire the nearby boats and floating homes in the marina, and then grab a bite at True Grain bakery.
50. Oak Bay Beach Hotel & Spa
A destination unto itself, there's no better place to bliss out than at the stunning Oak Bay Beach Hotel. Located a quick 15-minute drive out of downtown Victoria, Oak Bay is a luxury boutique resort nestled into the island's rugged shoreline that offers expansive of ocean views over the Strait of Juan de Fuca. The hotel's breathtaking seaside mineral pools and spa services offer up the ultimate relaxing weekend getaway experience topped with the addition of Faro, the property's new restaurant offering handcrafted pizzas, small bites, salads and cocktails.
With most of the city's attractions within walking distance, it's easy to get caught up in the spirit of fall. A foggy morning in the Inner Harbour, muffled boat horns sounding in the distance. A stroll through any one of Victoria's parks to catch a glimpse of the falling leaves, coffee in hand. Wherever your visit may take you, add a few of these stops to your itinerary and enjoy the perfect fall escape in tranquil, cozy Victoria.
Feature Photo: Nick Bentley