If scheduling a fun adventure for the kiddos has managed to stick in your planning blind spot this summer, don't panic! There's an entire island waiting to be discovered right in Seattle's backyard. From gardens and beaches to hands-on museum exhibits and adventures on the sea, Victoria, BC is the perfect destination for a fun and easy family vacation. We know the planning process can seem intimidating, so we've compiled a super-sized guide that includes all the must-dos for your Canadian getaway!
Book Now: Kids Half-Price with a Seattle to Victoria Overnight Package
FRIDAY – Day 1
7:30 a.m. – FRS Clipper Terminal
Climb aboard the high-speed Victoria Clipper fast ferry for a relaxing 2-hour and 45-minute jaunt across the water from Seattle.
Jen Dotson, from Thrifty NW Mom, says "You might want to consider spending a little extra on an upgrade to Vista or Comfort Class to be seated on the top floor. Kids will love the better views from the top deck and the Vista Class seating even has some tables so you can all sit together facing each other. (Insider tip: it's also perfect for playing card games.)"
Gaze out the window or wander out to the upper, outside deck to soak in the incredible scenery. Surrounded by snow-capped peaks and stunning shorelines, there's nothing more breathtaking. Kick back in your comfortable seats and enjoy some downtime with your family.
Kim Tate of Stuffed Suitcase suggests, "A special new book or interactive craft toy is always a good idea, since the kids will be excited to play something new. You can also download audiobooks or get a coloring book that is about the ocean or Pacific Northwest."
Before you know it, you'll be arriving in Victoria, through customs, and on the street in the heart of downtown ready to explore.
10:30 a.m. – Chateau Victoria Hotel & Suites
Make the quick 10-minute walk along the waterfront to your home-base for the weekend, the recently renovated Chateau Victoria Hotel & Suites. Little ones love ordering from the hotel's special kids' menu, as well as spotting exciting city sights outside, such as Victoria's famous horse-drawn carriages.
PLUS the property has an indoor pool where they can splash and play while you kick back and relax in the Jacuzzi. You'll enjoy the extra space to spread out in their airy deluxe suites and walk-out balconies for outstanding views of the Olympic Mountains, Inner Harbour, and surrounding city.
Want a date night? Just ask your friendly concierge for babysitting referrals. Then pop up to the hotel's rooftop restaurant, Vista 18, for West Coast fare, live music, and more next-level views. Or head down to Clive's Classic Lounge to tantalize your taste buds with craft cocktails mixed from a selection of more than 300 rare and hard to find spirits. Book this hotel with FRS Clipper.
12:00 p.m. – Red Fish Blue Fish
For finger-licking good eats, make your way to the cargo container-turned-eatery, Red Fish Blue Fish. An absolute must on any visit to Victoria, tykes will gobble up crispy tempura-battered fish paired with their popular Kennebec chips. Fresh seafood with a view of the Inner Harbour? What's not to love?
1:45 p.m. – AdrenaLINE Zipline Adventure
Have adventurous little ones? Catch a shuttle and journey northwest of downtown Victoria for a heart-thumping AdrenaLINE Zipline Adventure Tour. After arriving at the coastal town of Sooke, transfer to an all-terrain MOG truck and head up through the forest to the top of the zipline course.
Whisk high above the trees and valleys of the region's temperate rainforest on the eight ziplines that crisscross park. Ranging from 150-1,000 feet long and up to 150 feet high, the ziplines will not only give you and the kids an adrenaline rush, but also provide a new perspective on Vancouver Island with a bird's-eye view of the forest canopy and surrounding mountains. Don't miss the park's two suspension bridges, which are perfect spots for a family photo op. Book this tour with FRS Clipper.
6:45 p.m. – Big Wheel Burger
After working up an appetite outdoors, nothing is better than biting into a thick, juicy grass-fed beef hamburger at the bright Big Wheel Burger. With a menu boasting a "Little Wheel Meal Deal" for kids of all ages, this local favorite is sure to please the entire family. There are plenty of goodies for adults too!  Slurp up a rich, creamy shake or nosh on a variety of gourmet fries. Ranging from garlic parm fries to Canada's unofficial national treat, poutine, they will make your mouth melt.
8:00 p.m. – Harbour Ferry Ride
Victoria's bright yellow water taxis are one of the most fun ways to get around the city. Hop aboard one of the vibrant vessels and cruise from the waterfront.
Watch the comings and goings in the harbor and soak in excellent views of downtown sights such as the Parliament Buildings and the Fairmont Empress. (Inside Tip: Stop by every Sunday from May to September or all weekend in July and August, when the boats put on a display of beautifully choreographed sequences and movements).
8:30 p.m. – Marble Slab Creamery
Give in to your inner sweet tooth and cap the day by cooling down with a frozen treat. Offering the best darn handmade ice cream on the island, Marble Slab Creamery is worth the visit. Indulge in a classic banana split or get your chocolate filling with a fudge brownie delight. De-lici-ous.
SATURDAY – Day 2
9:00 a.m. – Jam Café
A hip little spot, Jam Café is a go-to spot for the all-important weekend breakfast. With bananas and Nutella sandwiched between brioche French toast, the Cracker Jack is a must-try. Or sample the delicious, kid-sized silver dollar pancakes off the kid's menu for a little slice of hotcake heaven.
Dotson states, "The Cafe can have longer waits (go early), but the food is absolutely worth it, with large portions to keep everyone happy and stuffed! We loved all the different waffle variations with fresh fruit and powdered sugar. The milkshakes were huge and so tasty. It's a vibrant restaurant with eclectic decor to enjoy while eating!"
10:00 a.m. – Eagle Wing Whale Watching
If your kiddos have a soft spot for the enchanting creatures of the sea, you've come to the right place. Embark on a whale of an adventure with Eagle Wing Tours on an expedition catamaran.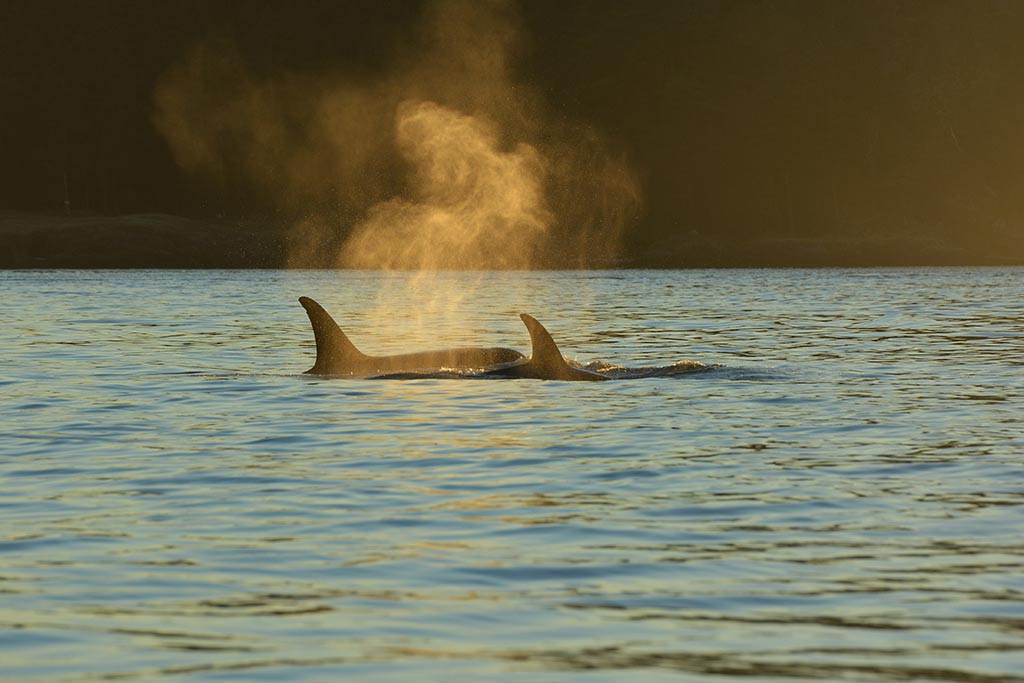 Take in awe-inspiring views as you cruise through the waters in search of the region's showstoppers – Orca's, Harbour Porpoises, sealions, and humpbacks! The best part? You'll also pick up fascinating facts about these magnificent animals from the talented naturalists onboard. Book this tour with FRS Clipper.
2:00 p.m. – Flying Otter Grill
If it's a one-of-a-kind dockside dining experience you're after, look no further than just down the harbor. Tate says, "One of my must-visit recommendations is the Flying Otter Grill. It's located right on the harbor next to the dock for Harbor Air Seaplanes."
Tucked away on a floating dock the edge of the harbor, the spot boasts phenomenal water vistas and is one of the city's best-kept secrets. Dig into the seafood paella while the kids nosh on melty grilled cheese sandwiches paired with fries. Just make sure to save room for the deep fried cheesecake tossed in cinnamon sugar!
3:00 p.m. – Fisherman's Wharf
For more seaside goodness, make the short jaunt to Fisherman's Wharf.  Wander the docks and check out the dozens of charming houseboats as they bob with the waves. Painted in all the colors of the rainbow, these charming homes offer another opportunity to snap an awe-inspiring shot.
Dotson adds, "With a variety of restaurants with outdoor dining, the area is another favorite for kids and teens. We love to dine on fish and chips & look for the friendly seals who frequent the wharf area, keeping kids, young and old, entertained and laughing at their antics."
While you're there, don't miss Jackson's Ice Cream. With a lineup of 16 delicious flavors and old-fashioned floats, swirly soft serve and refreshing gelato, it is hands-down one of the best spots in the city for frozen treats. Yum!
3:50 p.m. – Parliament Buildings
If anything epitomizes Victoria, it's the Parliament Buildings. Stop by the iconic landmark and spend some time exploring the nearly block-long property. Uncover details in the intricate architecture that you would've missed from the street.
Duck inside and hop on one of the free, guided tours available year-round. The expert staff will fill you in on BC's history, the legislative process and everything you want to know about this centuries-old building! Have antsy kiddos? The short express tours will allow you to check out the building in a mere 20 minutes. Or you can explore on your own and pick up a handy map for a self-guided tour.
5:00 p.m. – Miniature world
Just a few blocks from the pale blue domes of the Parliament Buildings, Miniature World offers visitors of all ages a bite-sized glimpse of Victoria's past, present, and future. Experience the Great Canadian Railway, wander the Enchanted Valley of Castles, and pay a visit to Olde London Towne circa 1670. Fair warning though, it may lead your kiddos to want to upgrade any dollhouses you may have at home!
6:30 – Pagliacci's
A hidden gem off Broad Street, Pagliacci's is a Victoria institution, and for good reason. Every morsel of the restaurant's authentic Italian fare is made on the spot and the walls of the small, intimate space are plastered with photos and art from the early 1900s, transporting you back to another era. Everything on the menu is excellent, so your only challenge will be deciding between grilled steak, fresh caught fish or a massive bowl of pasta. You really can't go wrong!
Dotson mentions, "If your kids love Italian, Pagliacci's is a quaint, charming restaurant with amazing food. Kids will love the warm, focaccia bread while you wait, and the portions are large and plentiful. It's a lively and friendly restaurant, so a perfect place to bring the kids!"
7:00 p.m. – Evening Illuminations and Fireworks at The Butchart Gardens
Get your flower fix with a painter's palette of colorful blooms by heading to the world-renowned Butchart Gardens in the evening. Witness The Gardens at their summer best as thousands of plants burst into bloom. Put your kid's sleuthing skills to the test and see how many different plant or moss animals they can find scattered around the grounds.
Or keep track of how many different blooms you can find this time of year, such as fragrant roses, rare Tibetan blue poppies and vibrant lilies. Bonus points for stopping by the Rose Carousel (the only merry-go-round on the island). Pick your ride from one of the 30 hand-carved wooden animals and chariots and go for a whirl!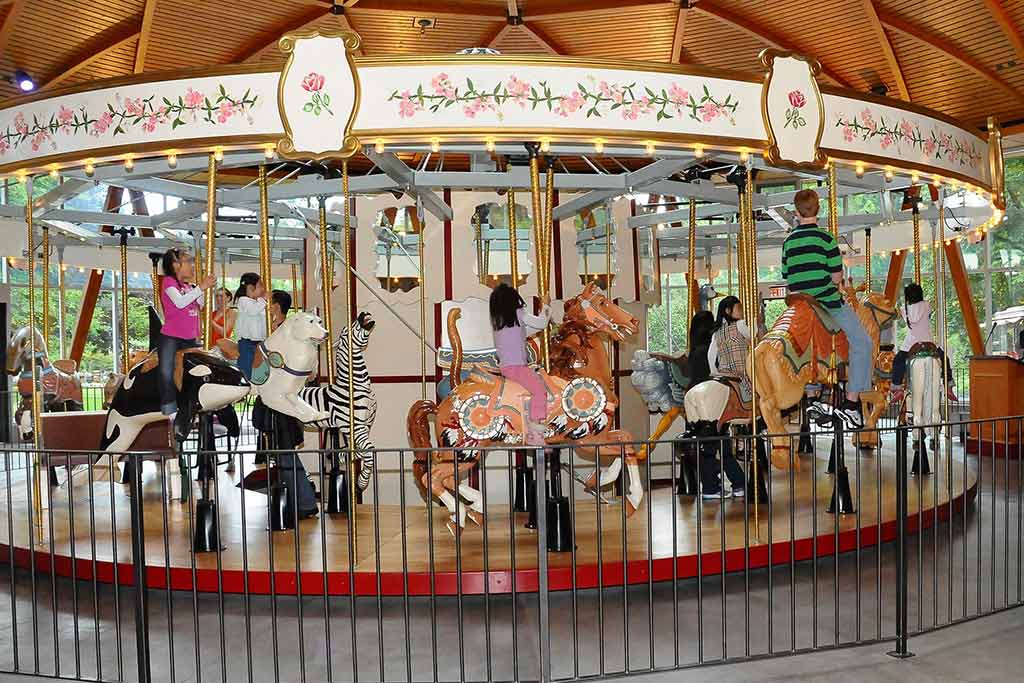 Come nightfall another side of the Gardens emerges. Give your kids the experience of a lifetime and take them to see three thousand glittering lights transform the sprawling grounds into an enchanting fairyland during The Gardens' Night Illumination installation. The dramatic displays use light and shadow on The Gardens' plants and flowers, highlighting their beauty.
Want to give your family a real treat? Visit on a Saturday night in July or August to catch one of The Gardens' 10 world-class fireworks shows. With the pyrotechnic display choreographed to a musical score, it's hard to think of anything more breathtaking and enchanting.
SUNDAY – Day 3
9:00 a.m. – The Ruby
Follow the sweet smell of waffles and good old-fashioned soul food to The Ruby on Johnson for the most important meal of the day – breakfast! Innovative home-style fare combined with plenty of crayons and paper to entertain your little Picassos or Monets is sure to earn the restaurant a slot in your brunch spot repertoire.
Dotson explains, "Complete with quirky and fun art and decor, this upscale diner-style restaurant serves large portions and delicious brunch options sure to please even the pickiest of eaters."
10:00 a.m. – Running of the Goats & Beacon Hill Park
Burn off breakfast and stroll over to the 75-acre Beacon Hill Park, just south of Victoria's core. Time your visit with the "Running of the Goats" at 10:10 a.m. (it also happens at 5:10 p.m. in case you miss it) at the Beacon Hill Children's Farm. A kid favorite, your little tykes' faces are sure to light up with glee as the farm's entire African Pygmy goat herd gallops past in a furry stampede on tiny hooves.
Dotson says, "The Beacon Hill Children's Farm, is a must see in my family's opinion. The Running of the Goats was fun and being able to have baby goats jump on your lap in the petting zoo made for some very special memories for my children. It really is a wonderful petting farm, and if your kids like to interact with animals, this is one of the best spots to do that."
Afterward, let the kids mingle with the farm's other furry and feathered friends, such as pigs, donkeys, sheep, Guinea pigs, bunnies, chickens and peacocks. Or explore the park's forest trails, open fields and sandy beaches to soak in stunning views.
12:00 p.m. – Tea at the Empress
Have little prince and princesses who appreciate the finer things in life?  Treat your pint-sized travelers to the chance to live like royalty for the day during afternoon tea at the Fairmont Empress. A luxurious splurge, the kiddos will delight in the chance to dress up in their finest duds, tiaras optional, and feast on yummy bites from a specially crafted kids' menu. Did someone say finger-sized PB&J sandwiches and rainbow sprinkle-covered chocolate chip cookies?
1:45 p.m. – Totem Poles at Thunderbird Park
Walk off that tower of pastries with a stroll around nearby Thunderbird Park, and check out the vibrant totem poles as well as the collection of First Nation monuments. Keep an eye out for what is perhaps the most distinctive structure in the park, the grinning Wawadit'la, a painted wooden building also known as the Mungo Martin House, named after a famous local carver. (Inside tip: Except for the heraldic pole, all the poles that you will see in the park are replicas of the original totems you saw in the First Peoples Gallery inside the Royal BC Museum.)
2:30 p.m. – Victoria Bug Zoo
Make your way down Douglas Street to discover a microcosm of wonder right in the heart of downtown at the Victoria Bug Zoo. Home to nearly 50 species of insects, arachnids, and millipedes as well as Canada's largest ant farm, this is a can't-miss spot if you have any creepy crawler-obsessed little ones in tow. Someone in your group a little more apprehensive when it comes to insects? Shatter any phobias with a safe experience that allows you to get hands-on with tarantulas and glow-in-the-dark scorpions.
3:20 – Shop Around Johnson Street

Earn some cool points in the eyes of any comic book-obsessed youngsters you have in your crew with a stop at Curious Comics, a one-stop shop chock-full of comics, graphic novels, toys, statues, collectible card games and board games. Head around the corner to Yates Street for a visit to Fan Favourites and peruse their vast selection of secondhand video games, consoles and movies, plus pop culture-themed goods of all shapes and sizes.
And fear not, mom and dad! Johnson Street has plenty of browse-worthy shops and boutiques perfect for a little souvenir for yourself – or something to gift the neighbor who's feeding the cat while you're away.
5:30 – Frankie's Modern Diner 
When it comes to dinner, you can't go wrong with comfort food combined with Italian flare. Centrally located on bustling Government Street and with a cozy retro interior, Frankie's Modern Diner hits the mark for both great location and a chill vibe.
Dine on fresh, made-from-scratch meals such as Frankie's Salmon puttanesca. Little ones can feast on classics such as spaghetti and meatballs or macaroni and cheese. Top your meal off with a hand-sized creamy vanilla cheesecake slice smothered in strawberry sauce.
7:00 p.m. – Clipper Terminal
After one last sunset stroll around town, board the Clipper for the return voyage to Seattle. Reflect on your adventures or use the time to plan your next trip, we guarantee the whole family will be counting down the days.
Whether it's petting fluffy animals, soaring through the trees or gazing at whales out on the Salish Sea, there's plenty to keep curious kids entertained for hours in and around beautiful Victoria, BC. Who knows, you might rediscover your inner child!
Featured image: Destination Greater Victoria