That telltale coniferous whiff of pine sap mixed with afternoons bathed in golden, glancing sunlight. The bounty of the harvest delivered through sensational sips and unforgettable meals. Fall in the Pacific Northwest is arriving in full force!
BOOK NOW:  Fall Sale – Victoria to Seattle Overnight Package with 2-Nights or More
It's high time to soak in the sensory overload of the season, whether it's more your style to bundle up for a leaf-peeping stroll or get cozy with a hot cup of joe and a rich pastry indoors. Our list of 50 things to do in Seattle this fall has activities to suit any autumnal mood, so kick-start your fall adventures with a FRS Clipper trip to the Emerald City!
1. Catch a Seahawks or Sounders Game
SEA! HAWKS! SEA! HAWKS! Ready to jump into the fall spirit with the most exciting football team around? Watch the Seattle Seahawks work to make a run for the playoffs at Lumen Field! Also home to the Seattle Sounders, this is the best spot in town to catch a game and skyline views of the city in a 67,000-seat arena.
2. Seattle Space Needle
Already a show-stopping landmark, the Seattle Space Needle's 100 million dollar "Space Lift" freshens the look of the 60-year-old building. With the world's first revolving 37-ton glass floor offering a peek at the ground below AND seamless floor-to-ceiling glass windows that serve up unobstructed 360-degree vistas of the Puget Sound, the Space Needle still boasts the classic views you've grown to love, but a million times better.
3. Volunteer Park Conservatory
While wandering through Volunteer Park, be sure to stop in at the Conservatory, a 100-year-old greenhouse made up of 3,426 glass panes (but who's counting?). Inside, you'll find a cactus room and hundreds of tropical plants, some as old as the building itself!
4. Feast on Fall Fare
Need to refuel? Pop over to the brick-walled Taylor Shellfish to feast on fresh oysters and other seafood creations. Or follow the locals to the casual Tavolata to enjoy amazing house-made pasta paired with meticulously crafted drinks. You may even make some new friends at the giant communal table!
5. Market Ghost Tour
Who doesn't like a good scare? Check out the spooky side of one the busiest spots in the city with a night tour of Pike Place Market. Creep through remnants of several graveyards, a former brothel and the Northwest's first elevator for corpses, which are all found inside the market's halls.
6. Savor Seattle Pike Place Market Tour
Get a taste of the Emerald City with Show Me Seattle's food tour as you travel through some of Seattle's tastiest neighborhoods on a guided walking tour. Where better to nosh on delicious eats than at the city's source for local and fresh food, Pike Place Market.
7. Seattle Beneath the Streets Tour
What's the best way to escape the rain in Seattle? Go underground! Experience a side of the city you never knew existed with a trek through the Emerald City's catacomb-like passageways on the Beneath the Streets Tour. Explore three city blocks underneath the historic Pioneer Square and gain insight into the history of Seattle's subterranean storefronts and sidewalks entombed by the Great Fire of 1889. Book this tour with FRS Clipper, learn more.
8. Refract
Showcasing one of Seattle's most beloved art forms, Refract is celebrating its 5th year of highlighting the Emerald City's creative uses of glass and the craft of glassblowing in the Pacific Northwest.
Hosted by Chihuly Garden and Glass, the region's luminaries of glass art will dazzle you with epic exhibitions, tours and live demos as well as fascinating discussions with experienced artists. The festivities start with Gather, the opening party hosted in Chihuly's towering Glasshouse space, all the way through to the closing party held at Pratt Park's Fine Arts Center!
9. Cozy Up with a Cocktail
After spending a day in the crisp autumn air, sometimes all you want is a soul-warming, expertly-crafted cocktail. Make your way to the Greenwood neighborhood to visit the woodsy, rustic The Cozy Nut Tavern and snuggle up in one of their intimate booths. Or stop by the speakeasy-style Knee High Stocking Co. on Capitol Hill for cocktails on the hush-hush.
10. Kubota Gardens
Tucked away in South Seattle, Kubota Garden perfectly marries Japanese garden design with native Northwest plants. Stroll over bridges, among waterfalls and beside ponds as you make your way through the grounds.
11. Washington Park Arboretum
A true hidden gem, the Arboretum showcases 230 acres of diverse plant life, some found nowhere else in the Northwest. Wind your way around its scenic trails or find a bench and soak up the landscape. With its varied and vibrant colors, the tranquil garden is hands down one of our favorite places for fall colors in Seattle.
12. Water Tower at Volunteer Park
After a stroll through the park and a visit to the conservatory, make your way to the top of the water tower. The 107-stair climb is a bit of a workout, but the view is well worth the trek. Breathtaking vistas of the city – including the Space Needle, waterfront and downtown skyscrapers – meet the eye in every direction.
13. Seattle Art Museum
Home to numerous permanent and rotating exhibits from around the globe, if it's amazing art you're after, there's no better place to find it than at the Seattle Art Museum (SAM). Swing by on the first Thursday of each month to enjoy free entry!
14. Catch a Show
Though Seattle's grunge days might be long over, the city is still breaking new ground in the music scene! Catch shows from both local and international artists at Belltown's Crocodile, Capitol Hill's Neumos or Tractor Tavern in Ballard.
15. Smith Tower
Once the tallest building in Seattle, the historic Smith Tower boasts incredible bird's-eye views of downtown Seattle, the Space Needle, multiple stadiums, and the waterfront. Pop into one of the original brass Otis elevators and ride up to the 35th-floor to soak in the views from the open-air "Bird Cage." Stop by the speakeasy-style Observatory Bar for happy hour to indulge in hand-crafted cocktails and shareable plates full of tasty snackables.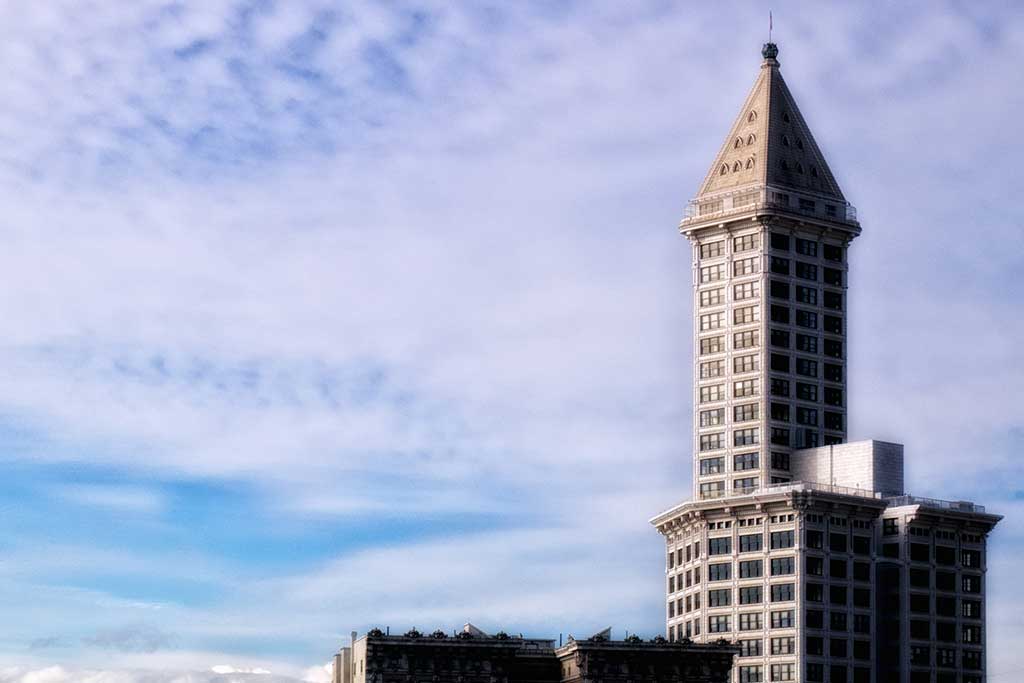 16. Diverse Dining in Columbia City
Columbia City boasts one of America's most diverse zip codes, and as a result, also offers an impressive variety of dining options. Stroll along its Rainier Ave. core and you'll spot Caribbean, Mediterranean, Ethiopian, Italian, Thai, and Asian fusion in the span of just a few blocks!
17. Seattle Aquarium
Perfect for the kiddos, meet the fabulous sea life of Puget Sound at the Seattle Aquarium! Wander through immersive underwater exhibits that put the fish high above you, or pet a sticky sea anemone with your bare hands in the touch tank. You can even get up close and personal with the region's impressive Giant Pacific Octopuses.
18. Seattle Antiques Market
It's easy to overlook this tucked-away gem, as it's located on the opposite side of the waterfront from the Seattle Great Wheel. Tucked along an industrial stretch of the downtown waterfront, you'll find a sprawling showroom of antique furniture, art and knick-knacks.
19. Seattle Chocolate Factory Tour
Give in to Seattle's sweet side! Learn about where this local confectionary's chocolate comes from, how it is made and tips on the best ways to savor this crave-worthy confection. Sink your teeth into an array of chocolaty treats and get a behind the scenes peek at the process from bean to bar on this chocolate lover's tour.
20. SoDo's Filson Store
Originally founded to outfit gold prospectors in 1897, Filson's newly updated headquarters offer quality garments made in-house. Stop in to browse a slew of quality, house-made garments ranging from plush wool socks to shearling-lined caps that are sure to keep you toasty all season long.
Comfort and quality reign supreme at Filson, an outfitter established in 1897. Credit: Paul + Williams
21. Elliott Bay Bookstore
Located on the ultra-hip 10th Avenue block of Capitol Hill, the Elliott Bay Book Company is where you'll not only find countless books, magazines and gifts but also Little Oddfellows, a newly opened café known for their pastries and small bites.
22. Georgetown Trailer Park Mall
Walk along Airport Way near Fran's Chocolates and you'll spot the Trailer Park Mall, a collection of retrofitted walk-in trailers offering everything from vintage goods to art and jewelry.
23. Sample Some Local Suds
It's well known that Seattle knocks it out of the park when it comes to craft brewing, and this time of year is no exception. Pay a visit to the industrial-chic taproom of Optimism Brewing on Capitol Hill to sample their autumnal Thankful Toasty Thanksgiving Lager. Or head down the road to nearby Elysian Brewing for a range of limited-time taps, such as the pumpkin-spiced Night Owl, or opt for a shot of caffeine with their Punkuccino. Or cruise over to Ballard and sip on a spicy Chai cider at Locust Cider & Brewing's artsy tasting space.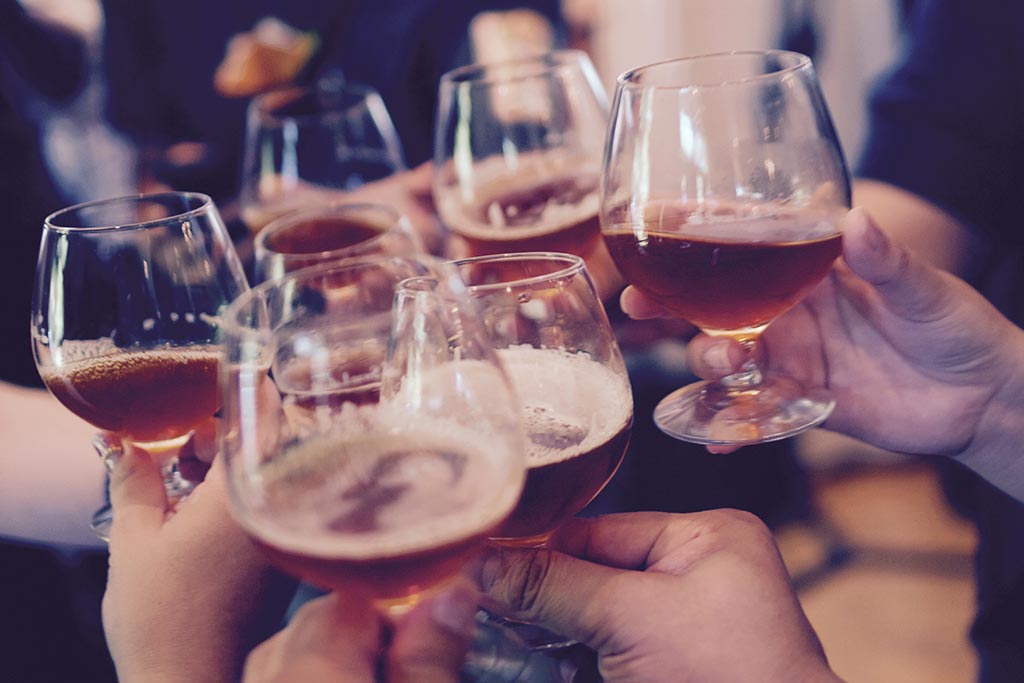 24. Grab Brunch
Is it an early lunch? Or is it a late breakfast? We don't care as long as pancakes are involved! Grab the best bites in the city at Oddfellows in Capitol Hill, Tilikum Place Café in Belltown, or at Portage Bay Café, with multiple locations around town — many of which accept reservations for brunch, a rarity in the city!
25. Skagit Valley
Pick a season, Skagit Valley is guaranteed to be bursting with color! From pumpkin patches to corn mazes in the fall, it's the perfect destination for a family weekend adventure.
26. Boeing Future of Flight Tour
Spend the afternoon at Boeing's Future of Flight aviation center to learn how these enormous mechanical marvels are created. Tour the factory and see gargantuan 747s being constructed before your very eyes.
27. Seattle Public Library
If you're in need of a quiet moment, wander along 4th Ave in downtown Seattle and head to the geometric, futuristic structure of the Seattle Public Library. The real treat is inside though, where colorful hallways and escalators add to the sensory experience.
28. Pacific Science Center
Chilly day? The Pacific Science Center offers the perfect respite! Duck into the Planetarium for a show that's out of this world, then immerse yourself in their indoor jungle full of butterflies and colorful tropical plants. While you're there, don't miss the chance to catch a movie on one of the world's largest IMAX screens!
29. Slurp a Bowl of Soup
Grab a spoon and dig into Seattle's array of slurp-worthy concoctions from across the world. Whether you're craving a fragrant bowl of Tom Kha from Noi Thai Cuisine, classic clam chowder from Pike Place Chowder or brothy minestrone from Machiavelli Ristorante, the Emerald City offers a nearly endless supply of steamy soups that will please your palate and warm your bones.
30. Challenge Friends to a Game Night
Get all the cozy vibes of game night without the cabin fever with a trip to Mox Boarding House, a game cafe with locations in Ballard and Bellevue. Grab a board game from their impressive library, then huddle into a booth with a few friends and a frosty pint of local craft beer. Want to upend the "Seattle freeze" stereotype? Snag a seat at one of their communal tables and recruit some new playmates to join in the friendly competition!
31. Fremont Oktoberfest
Prost! Celebrate the season with a sudsy stein full of malty brews at Fremont Oktoberfest. Sip on offerings from breweries and cideries all over the region, plus some authentic imported options straight from Germany. Heading over with a furry friend? Be sure to swing by Dogtoberfest for a cover dog model contest, a "fly dog" jumping competition and other pup-friendly activities!
32. Chihuly Garden & Glass
Explore a jungle of vibrant colors blended into tangled, swirling structures as you walk through Chihuly Garden & Glass. Soak in room after room of floor-to-ceiling, colorful creations as you learn all about the artist, local legend Dale Chihuly.
33. Indulge Your Sweet Tooth
Bid farewell to bathing suit season with an indulgent sweet treat! Head to Hot Cakes Molten Chocolate Cakery for decadent concoctions that range from their classic gooey brownie cake to an innovative tropical ice cream sandwich. Grab a cookie to go at Capitol Hill's Hello Robin Cookies, where you can find everything from a brown butter snickerdoodle to a rich, flourless chocolate confection. Or if creamy cheesecakes are your weakness, you can't go wrong at Pike Place's The Confectional!
34. Stroll the Waterfront
Spend an afternoon exploring the scenic Seattle waterfront! Dotted with fun activities such as the must-visit Seattle Great Wheel or the exhilarating Wings Over Washington, there are more than enough things to do along the banks of Elliott Bay. You may even catch an early dusting of snow on the Olympic Mountains across the water!
35. Conquer a Corn Maze
Weave your way through soaring stalks at the Carpinito Brothers' corn maze! On a clear day, you'll be treated to a spectacular view of Mount Rainier looming in the distance, taking this autumnal tradition to the next level. Be sure to bring the kiddos – the sprawling grounds also offer a u-pick pumpkin patch, petting zoo, and hay slides!
36. Pinball Museum
Transport yourself straight back to childhood days of arcades, flashing lights and the delightful cacophony of zig-zagging pinballs at the Seattle Pinball Museum! Order up a pint of local beer, slip it into one of the pinball machines' cupholders and get your flipper fingers ready for some world-class pinball playin'. With more than 50 machines ranging from modern to classic, you're bound to find one that brings on a bout of nostalgia.
37. Seattle Restaurant Week
It's no secret that Seattle is a veritable foodie Mecca. The city has everything from seasonal, locally-sourced cuisine at Capitol Hill's Finch & Pine, to high-end seafood right on the water at AQUA, to classic Italian by way of Mondello Ristorante in Magnolia.
It may sound impossible to narrow down your dining options, but thanks to Seattle Restaurant Week's special three-course deal, you don't have to choose just one to keep your palate pleased and your wallet intact. Just be sure to visit one of the participating eateries between October 22 and November 4!
38. Catch Some Global Cinema
Fancy yourself an international cinephile? Then get ready to be on an all-popcorn diet this fall! Settle into a theater seat on a rainy day and enjoy movies hailing from Africa to Asia to the indigenous communities of the PNW during their respective film festivals this season.
39. Explore the Craft Cocktail Scene
Duck into one of the city's plethora of hip watering holes for a hygge happy hour. Whether you're looking for a stiff Prohibition-era classic or you have your heart set on sipping a drink straight out of a coconut, Seattle has a bar to fit the bill.
Up the hill from our terminal, Tiki-themed Navy Strength can offer up some sunshine in a glass on a drab day. Or trek up the Pike Street Hill Climb for boozy bevs that put Seattle's bartending scene back on the map in the early aughts. Cheers!
40. Earshot Jazz Festival
Grab your porkpie hat and prepare your ears for some of the best live music in the city at Earshot Jazz Festival. With more than 50 performances across the city, the festival celebrates the genre's leading artists and rich cultural heritage. Plus, with events held at venues all over the Emerald City – from Benaroya Hall to Nectar Lounge to SAM – it's a great excuse to get out and explore Seattle!
41. Celebrate Halloween in the Emerald City
Whether you're looking for family fun or spooky celebrations, Seattle's got you covered. Enjoy some spine-chilling stories with a humorous twist at Campfire: Improvised Ghost Stories, presented by Pike Place's Unexpected Productions.
Or get Fido involved in the spirit of the season with a turn in the Halloween Pet Parade at Volunteer Park! Perhaps you're looking to sip a witches' brew or two? Join the 5th annual Halloween Pub Crawl through downtown Seattle for some festive fun!
42. Bill & Melinda Gates Foundation
Spend a day at the Bill & Melinda Gates Foundation Discovery Center to learn all about how the world's largest private philanthropy works in the city as well as around the globe. After a visit here, you might just be inspired to help change the world yourself!
43. Frye Art Museum
Right in the heart of downtown, Frye Art Museum boasts an astounding collection of contemporary art in a chic, beautifully appointed space. The kicker? Admission is always free.
44. Dig Into a Doughnut
Enjoy a snug morning with a steaming cup of coffee and its eternal a.m. sidekick – the doughnut. If a filled confection is your preference, General Porpoise should be your first stop. Keep things light with an apricot jam-filled or go all out with their chocolate & marshmallow.
With multiple locations around the city, odds are good that you'll encounter local favorite Mighty O. Plus, with their focus on respecting the environment and organic, all-vegan menu you'll leave feeling slightly less guilty than your average doughnut run! Opt for the spiced Apple Fritter to go all-in on the autumnal goodness.
45. Renegade Craft Fair
Tackle a little early Christmas shopping – or snag a unique souvenir for yourself – while supporting an array of local artisans at the Renegade Craft Fair! Browse through more than 180 vendors offering accessories, jewelry, cosmetics, health & wellness products and tons more, plus there are food trucks at the ready for when you need to refuel.
46. Seattle Fresh Hop Beer Festival
Drink your way through one of the season's most celebrated crops — hops! — at this year's Seattle Fresh Hop Beer Festival. Sip your way through the fragrant, super-seasonal beverage, enter to win prizes, enjoy local bites from an array of food trucks, and lots more at this weekend-long event hosted at Magnuson Park.
47. Oyster New Year
Celebrate one of the PNW's trademark seafood offerings at Oyster New Year. As the biggest oyster party on the West Coast, get ready to slurp more than 30 varieties of local bivalves, all shucked to order. Add live music, raffled prizes, a full fresh seafood buffet and 60 wineries pouring on-site to the mix and you've got yourself a can't-miss culinary event!
48. Visit MoPOP
Never met a trivia tournament you didn't love? Then the Museum of Pop Culture (MoPOP) should be on your must-visit list! As you approach the distinctive building, take a moment to soak in its design – a kaleidoscopic creation of architect Frank Gehry. Next, enjoy an afternoon of experiential exhibits, covering everything from the horror flicks to the career of Prince to an ode to local legends Nirvana.
49. Northwest Chocolate Festival
Chocoholics rejoice! Cocoa nirvana is on its way to Seattle by way of Northwest Chocolate Festival. Boasting the largest instructional program on chocolate in the world with a massive lineup of workshops ranging from various uses for cacao butter to chocolate making at home to forest conservation, the festival is as much an educational experience as an edible one. Exhibitors include San Francisco's Tcho Chocolate, local fave Fran's and Al Nassma all the way from Dubai.
50. Free National Park Day
Every year the country's national parks are available to the public free of charge on November 11th for free entry to National Parks on Veterans Day. Don't let this budget-friendly opportunity go to waste, especially with multiple spectacular national parks all within driving distance of the city!
Want to skip the hassle of renting a car – not to mention the uncertainty of navigating? Opt for a narrated, guided tour to two of Washington's most beloved nature destinations on a day trip to Mount Rainier or Olympic National Parks.
From its sweeping waterfront vistas to tree-lined back roads, the greater Seattle area is the perfect autumnal playground. Whether you're mourning summer's end with a new round of adventures or literally jumping for joy (into a pile of leaves), this is the season to fall in love with the region's changing landscape.